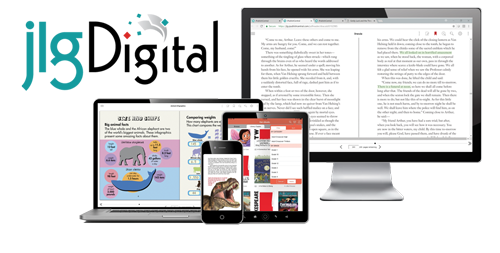 The Digital Solution for Modern Librarians
JLG Digital provides your readers with unlimited access to JLG Gold Standard eBooks and audiobooks for them to read or listen online from any device, at any time. Now you can curate your digital collection like your favorite television streaming service with a revolving bookshelf of simultaneous, multi-user JLG Gold Standard digital titles each month! All at an affordable cost.
---
JLG Digital Highlights
✓ Truly simultaneous, multi-user access from any device. An unlimited number of users can access any book in your stream at any time, meaning your readers don't have to wait for their favorite books to become available.
✓ Revolving selection of Gold Standard ebooks and audiobooks. New eBooks and audiobooks circulate into your stream each month, giving your students access to new genres and authors, just like their favorite television streaming services!
✓ Built in tools for classroom success. With Google Classroom integration, bookmarks, highlighting tools, interactive indexes, and multiple formatting perferences, your educators will love teaching from the stream.
✓ Exclusive access to Lerner classics. JLG Digital is one of the only platforms where you can purchase digital classics, bringing these long-standing favorites into a contemporary format perfect for classroom instruction.
✓ Enjoyable anywhere, at any time. With Google Single Sign-on, logging into the stream is super easy and quick. And, since students have 24/7 access from any internet browser or through iOS and Android apps, they'll always have the books they love at their fingertips.
✓ User reporting and circulation measurement. JLG Digital analyzes usage to identify which streaming books are trending, giving you circulation confidence before you permanently add a digital (or print) title to your collection.
✓ JLG Digital is cost-effective, too. With JLG Digital, you'll get 150+ revolving titles each year for less than the cost of one classroom set of digital books. Just see for yourself!
---
The Most Cost-Effective Ebook Solution
JLG Digital offers streams for Elementary, Middle School, and High School readers. Each stream delivers more than 150 revolving titles each year, with each title remaining in the stream for an average of 30-90 days. An unlimited number of readers can access any book at the same time and as many times as they choose while it's live in the stream. At the end of each book's trial period, you can see which titles are most popular with your students BEFORE you purchase and permanently add them to your print or digital collection.