Deal of the Month: Special Offer $9.50 Each

Summer is here! And that means it's a great time for your readers to hit the beach with a good book, or beat the heat inside with a new novel. This month, we've selected three popular books that cover all grade levels and have "Summer" in the title. Don't miss the opportunity to add them to your collection for just $9.50 each when you shop before 7/31.



My Awesome Summer

by Paul Meisel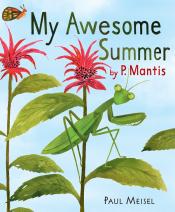 With bold, beautiful art and a text both humorous and scientifically accurate, MY AWESOME SUMMER BY P. MANTIS introduces young children to the life cycle of a praying mantis. "May 17: I was born today! It's a beautiful, sunny spring day!" This is the diary of P. Mantis, one of 150 brothers and sisters born on a garden bush. P. Mantis is an amazing insect: she can make herself look like a stick to hide from predators, she can swivel her head all the way around, and when she's grown up, she'll even be able to fly! Told in dated entries, P. Mantis describes the entirety of her life, sharing the fun and beauty of her world as well its little ups and downs ("I ate one of my brothers. Okay, maybe two.").
Grades K - 2
Praise:
"The perfect introduction to the life cycle of the praying mantis for those ready to handle a mantid-eat-mantid world."—Amy Shepherd, St. Anne's Episcopal School, Middleton, DE, School Library Journal
Awards & Honors:
2018 AAAS/Subaru SB&F Prize Finalist, Children's Science Picture Book
Author Bio:
Paul Meisel is the author and illustrator of seven books to date, and illustrator of over 70 children's books. Two of those, Stinky Spike the Pirage Dog and Stinky Spike and the Royal Rescue, were written by his son, Peter. He also does editorial, educational, and advertising illustration. He is the parent of a labradoodle named Coco.
Enjoy this KidLit interview with Paul Meisel about My Awesome Summer.
_____________________________________________________________________________

The Summer of Owen Todd
by Tony Abbott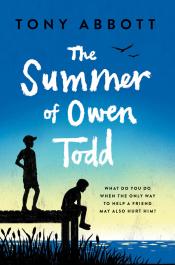 Owen and his best friend, Sean, are both eleven years old. They've lived on Cape Cod all their lives, and now that they're a little older, they'll finally be free to spend some time on their own. But Sean's mother has a different idea—she hires a babysitter to look after Sean. Paul is in his twenties, and a well-liked guy from church.
Paul starts doing things that just feel wrong. Because they've always been as close as brothers, Sean tells Owen, and no one else. What's not certain to Owen is what he should do. Sean warns him not to tell anyone what is happening. But if Owen doesn't tell, could something even worse happen to Sean?

Grades 5 - 8

Praise:
"This book offers an empathetic portrayal of a difficult and important subject."—Lauren Strohecker, McKinley Elementary School, Elkins Park, PA, School Library Journal
Awards & Honors:
School Library Journal's Best Books of 2017, Middle Grade and Chapter Books
Author Bio:
Tony Abbott has been writing books for 20 years. He grew up in Ohio and Conneticut, with parents who were teachers (his father became a university professor), and encouraged his love of reading. When he began reading bedtime stories to his own children, his love of writing turned to children's books. He has since written over 95 books for children between the ages of 6 and 14, and has sold over 12 million worldwide.
_____________________________________________________________________________

The Summer of Broken Things
by Margaret Peterson Haddix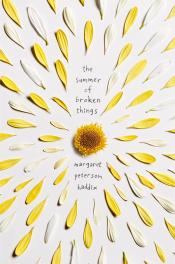 From New York Times bestselling author Margaret Peterson Haddix comes a haunting novel about friendship and what it really means to be a family in the face of lies and betrayal.

Fourteen-year-old Avery Armisted is athletic, rich, and pretty. Sixteen-year-old Kayla Butts is known as "butt-girl" at school. The two girls were friends as little kids, but that's ancient history now. So it's a huge surprise when Avery's father offers to bring Kayla along on a summer trip to Spain. Avery is horrified that her father thinks he can choose her friends—and make her miss soccer camp. Kayla struggles just to imagine leaving the confines of her small town.

Grades 9 & Up



Praise:
"...A compelling coming-of-age novel. Readers will be drawn into both protagonist's lives, rooting for Avery to learn an ounce of empathy and for Kayla to gain confidence in the same measure." —Jill Heritage Maza, Montclair Kimberley Academy, NJ, School Library Journal
Awards & Honors:
Starred and/or favorable reviews from Booklist, Voice of Youth Advocates (VOYA)
Author Bio:
Margaret Peterson Haddix dreamed of being an author growing up in Ohio, but wasn't sure it was a career that "real people got to do." She began her career as a reporter, which gave her the opportunity to meet and interview many different people with highly varied backgrounds. That inspired her not just to document their stories, but to create characters and stories of her own. She is the author of over 40 books for young readers.