The Power of Story in the Library
---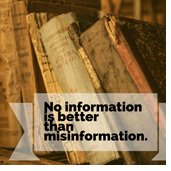 Deb's Musings April 2017
by Deborah B. Ford
The Power of Story in the Library: Everyday Advocacy
Yes, we celebrate school libraries during April. Yes, we celebrate all libraries during National Library Week. Why not celebrate libraries every day? Of course, we do, but just like poetry, we give it a special push during its national month. What about every day? What can we do every day that not only celebrates and promotes the amazing things we are doing, but also gains us some ground in our marketing department?
When I was in New Hampshire, Paul Reynolds (FableVision Learning) talked about the power of story. He asked:
If you wrote a book about an amazing, powerful, critical library, what would it be called?
The power of the library is in your stories. What's happening in your library that your community needs to know? So many times I'm told "they don't understand what we do. They think we read books to children, check out books, and play on the internet." If that's what your population thinks, you've got some storytelling to do.
There is power in the telling of a library story. ALSC even has a website to help you. Here are four ways to improve the storytelling in your library.
1. Gather stories. Whether you create a video, keep a journal, maintain a file, or create an audio file, record the stories that happen in your library. Take pictures. Write down what that parent said after storytime about how this is the only time his child is really engaged. Keep the letter from the child who praised you for finding the just-right book for him. Make a list of all the collaborative projects you completed with your teachers. Ask for permission to share the stories and pictures as you collect them. Don't be afraid to ask for feedback after a lesson or community event. Use that information to improve (or repeat) success.
2. Search for marketing outlets. What happens in the library should never just stay in the library. Whether you have your own marketing department or not, if you don't tell these stories, the world may never know. Create a Facebook Live video and share a story. Use Adobe Spark or Typorama to create an infopic of an event that happened in your library. Print them out and post them where people go—and not necessarily in the library. Create a poster for the back of the restroom door, for example. Make sure your district, regional, or branch offices know what you're doing. Ask to speak briefly at meetings. When you have a special guest, share the event before, during and after. Make good use of newsletters by including something from the library in every one. Delegate the task to a student or patron and bring in another storytelling voice.
3. Know your audience. When you're telling stories to your school board or advisory board, a story may include statistics as well. When you're talking to shareholders, they want to know their investments are paying off. When you're talking to parents, they want to know their children's best interests are being cared for. If you're asking for budgetary support, be specific, and lean on the positive side of the request. Those who tell stories that end in a whine often turn away the ear of the listener. Those who share the following kind of story come away with a different viewpoint.
I was weeding a library in east Ohio, finding incredibly old science nonfiction. A first grade teacher walked into the library and demanded to know what I was "doing with their books?!"
I said, "Oh dear. Let me show you." I brought her a copy of What the Moon is Like by Franklin M. Branley © 1963. I opened it to the page where it says, "One day man will walk on the moon. And he will wear a suit."
She said,"Oh, my goodness. That was in our library?"
I replied," It's just the tip of the iceberg."
Her response: "Oh. (pause) You're the cavalry."
"I am," I said. "I'm saving your children from misinformation and asthma."
1. Delivery is critical. As with all storytelling, how you tell the story is just as important as its content. Keep your pace steady without rushing. Use vocabulary that connects with your audience. Pause after the telling. That empty space is the secret to a good telling. It gives the listener time to internalize and react. After all, the point of the story is a call to action. What do you want your listeners to do? Get out their checkbook? Bring a friend to library hour? Volunteer to work in your library? Donate materials to your makerspace? Think about the end goal and deliver your stories so that you do more than share a "funny thing that happened last week." Stories give listeners a chance to embrace the library and look beyond checking out books.
Let's think back to what Paul Reynolds asked:
If you wrote a book about an amazing, powerful, critical library, what would it be called?
What stories can you tell in this amazing book? Let us know what you'd call it by sharing your ideas @JrLibGuild or email me at dford@juniorlibraryguild.com.
---