From the Desk of Deb, August 2017
Six Mistakes Booktalkers Make
by Deborah b. Ford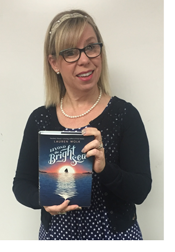 One of my favorite tasks as a presenter is booktalking. You know that feeling you get when you hit a homerun? Hooking someone on a book is so satisfying. Though many of our booktalks as a librarian are spontaneous, a planned booktalk event can be wonderfully effective for getting those hidden gems off your shelves. Because we so often present booktalks without preparation, we can easily miss the mark because of six little mistakes. If we can avoid these less-than-perfect strategies, we can master the booktalk. These ideas apply to writing book reviews as well.
1. Starting a booktalk with: This book is about . . .
If you're in the fifth grade, that's one thing, but there are so many other starting ideas for a booktalk. Try stating the title of the book or use the author or illustrator's name. For example, say, "Leigh Bardugo has a new book: Wonder Woman: Warbringer. Diana never thought that by saving a life she would bring death to her island . . ."
2. Starting every book the same way.
Shake up your booktalks so that your audience never knows what you'll say. Ask a question: What would you do if your government limited you to the use of only 500 words and all other words were forbidden? What would you do if they decided you needed far less—or none at all. Other starter ideas include reading a passage or comparing the book to another book. State the problem, establish the setting, do a magic trick, or ask for a volunteer to help you read from a book of poetry.
3. Not knowing how to end the booktalk.
There should be a clear and obvious end to your talk about a book. If you're reading aloud, you might end with "and if you want to know the ending, you'll have to read it yourself." You might just say the title and the author and illustrator of a book. You might end with a question. If you add a small pause before you begin your next book, that also allows the listener to process the information and be ready for your next book. And just like your beginnings, you'll want to vary how you end the booktalk.
4. Talking at them the entire session.
Yes, you may feel pressed for time, but engagement with your audience is half the battle. Making personal connections to a book helps sell the book. Try this. After you ask a question, involve your audience. Give them time to answer. And vary that as well. Ask them to turn to their neighbor and answer a question. Tell them to get in groups of 3 or more. Ask them to write their answer down. And no, you don't have to share out the responses. Often, the sharing with another person or medium is enough.
5. Not reading the whole book.
No, you don't have time (or the desire) to read every book in your collection, but talking about a book you haven't read is asking for trouble. Yes, you can just read the back cover or the inside flyleaf, and those are written to do exactly what you're doing. However, chances are someone will ask you a question you can't answer. Is this a series? Is this better than his last book? Why is this book YA? Could I use it in my middle school library?
If you don't have time to read the book, skip it. There are plenty of others. If you have extra time and need to stretch out your session, ask your audience for ideas about how they might use a particular book. Ask them to recommend read alikes.
6. Reading your booktalk.
Just. Don't. Do. It. It's not a book report in front of the class. Unless you're a professional actor it will sound exactly like you're reading a book report. While writing out exactly what you want to say is a good idea, get rid of that script and replace it with key phrases. Write down your starter and closer. Add the names of the characters or subject and perhaps the time period. (Character names are always difficult for me, so that's my Achilles heel. Everyone has one.)
Unless you do the same session over and over, you may need cheat notes. If you're holding the book in your hand, simply tape a note card to the back with your phrases. And remember in any performance, what the audience remembers is how you start and how you finish. Unless you do some wondrous magic trick in the middle—and wouldn't that be fun—no one will ever think about the details you glossed over.
………………………………………………………………………………………………………………
Using these strategies is sure to get those books circulating. You'll know you've been successful if you need to order new copies. (Remember to use the power of your JLG membership and shop the backlist for multiple copies at a discounted price.) And if you never see your booktalk books again, you'll know you've done your job well—time to write some new booktalks.
If your school district or public library system would like training in booktalking, contact your account rep. I have a professional development workshop, 2-4 hours long, that I can do onsite on Jazzing Up Your Booktalks. With a few public speaking tips and some booktalk coaching your team can score when selling books too.