Lessons Learned from My Visit to Prison
---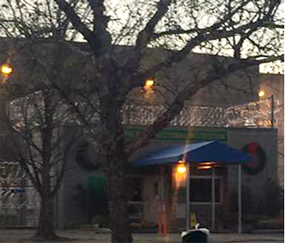 Lessons Learned from My Visit to Prison
by Deborah B. Ford
Saving the most unusual for last, my final road trip of 2016 was a visit to Polk Correctional Institution in Butner, NC. It is a close custody prison which is North Carolina's highest level of security. Maximum capacity is 904 males, currently holding between 750 and 800. About 60 inmates, ages 18-21, are working on their GED which is a requirement of release.
As Director of Library Outreach, my job is to (obviously) reach out to our members. When the Polk librarian called me to talk about the needs of her library, I quickly volunteered to visit. "Real Men Read," I told her. So, with lots of research and experience with reluctant and below grade level readers, I set off with a suitcase full of ARCS that I thought they might like to read while they wait for their JLG membership to kick in.
Their shelves were full of too hard and "not my style" books—Danielle Steele and Nora Roberts. Shelves of them. Prior to my visit, they chose from old James Patterson novels and wished for urban fiction. One inmate told me they didn't need urban fiction. "It's trash, Ms. Ford. They can't learn anything good from it."
Their teachers brought them into the library where I spoke to about 30 inmates at a time. My plan was to teach them how to choose a good book—looking at the cover, inside flap, and reading the first sentence. It was an abysmal failure. I went to Plan B.
I told stories. Stories about the bubonic plague and the kid from Oregon who contracted it after a flea bite while camping. I told them about Typhoid Mary and how they locked her up until she promised not to cook for anyone. I read informational bits about animals from Sad Animal Facts. I read the first few pages of Scar Island, pirate accent at the ready. I told them about the James Bond adventure that stopped the Norway plant from producing heavy water for Germany's bomb project. I told the stories of the Gunpowder Girls. That's what it took to get them interested. A good story.
So here's what I learned. Just like any reader, give them a good book and they will read it. Find out what they like. Find out how hard it is. No matter what they've done, what their past experiences are, there is a little boy in every one of those guys. A little boy who likes action, adventure, mystery, and facts. A little boy who wants to be successful—even if he doesn't know how.
Their teachers are struggling too. They can't use the internet—can you imagine teaching without it?! They need maps to teach about places to go. They need their students to soak up everything they can, but it has to be in print. I showed them Newsela, Wonderopolis, and TweenTribune. Perhaps they can print it out in various lexiles and extend their resources. I gave them my 101+ Mostly Free LiveBinder to use outside of the institution. We talked about JLG Booktalks to Go and the resources on JLG's Website—like Themed Booklists.
Here's what I learned from the teachers. They are passionate about what they teach. They are committed to helping their students graduate. They want to give them the tools they need to succeed on the outside. Yet their hands are tied. Restrictions and resources make it tough to accomplish their goals. They go through security every single day. They can't use the internet in their teaching. In spite of the negative factors, I've never seen such a positive faculty. They greet each other with smiles and encouraging words. They do what they can with what they have. They know they have a chance to really make a difference in the lives of their students.
The lesson for all of us? Don't accept what you see. The new librarian went into that library with her sleeves rolled up. She made her case for new library software. She weeded so many outdated and worn out books. She petitioned for JLG membership. She asked for library aides. She asked for a guest to work with her students. She asked for time to train her teachers. She got it. Sometimes we have not because we ask not. So ask. Build your case. Use data. Get a quote. We have statistics (JLG selections circulate 80% more than other titles).
Secondly, be grateful for what you do have. Polk Institute has so little. I bet after the weeding less than a dozen science books were left. How many do you have? Is your library filled with more book titles than your kids will ever read? Do you have the internet for up-to-date information? Polk Institute doesn't even have new print encyclopedias.
And most importantly, at this time of year when we reflect on what we have and where we've been, remember why you took that job in the first place. It wasn't to protect the books. It wasn't so you could be in control of a space. It wasn't so you could be the lunch monitor. If you're like most of us, you wanted to save the children. So save them. Put them first in your advocacy and marketing efforts. Petition for more categories because they need the resources. Keep your library weeded so that they can find correct material quickly. Education can prevent incarceration. Save the children because if you don't, who will?
If there was more than one of me, I'd have left one of us at Polk. Working with those teachers and inmates reminded me of what's important. I am thankful that Junior Library Guild allows me to support our membership with free professional services. What about you? Is there a correctional institution near you? Is there something you can do to support that library and its services?