An Author is Coming: Now What?!!
---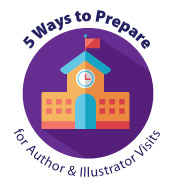 Deb's Musings March 2017
An Author Is Coming: Now What?!!
Deborah B. Ford
Last month, Ask the Librarian answered the question: "How do I get an author or illustrator to visit my library?" This month, let's talk about what happens when an author or illustrator agrees to visit. How can you be sure everything goes smoothly? Here are five ways you can be prepared—for just about anything.
1. Make sure your students/patrons know the author's or illustrator's work. Maybe if it's someone prolific they don't have to know every book, but certainly they should be familiar with some of them. It makes for a more exciting visit when listeners have some experience with the celebrity. Purchase several copies of the books. Have an author unit study. Create a series of storytimes featuring books of the expected visitor. Do a project and display their work in the lobby or front office. Pinterest is full of examples you might adapt. Check out our Author/Illustrator Board for ideas. Be sure your families know about the event—and encourage them to attend if space allows. Follow him or her on social media. Create a map and track his/her travels. Visit the website and learn all you can so that kids can ask new questions they couldn't just look up online.
2. Get your logistics straight. Make sure everyone involved is aware that you are expecting a guest. What is the expected time of arrival and departure? Who is picking up the guest? How many chairs need to be set up? Are they sitting on the floor? Does furniture need to be moved? What kind of technology do you need? Which classes are cancelled in the school venue and have teachers been notified? Has the regular day schedule been modified? Be sure to check your author/illustrator contract to be sure you don't miss anything.
3. Be a good host. Create signage or use your building sign to welcome the author or illustrator. Have someone meet the guest at the office or in the lobby to be escorted to the venue. Make sure an administrator is available to welcome the guest and introduce him or her to the audience. Ask in advance about any requirements he/she may have for comfort. Bottles of water and tissues are always nice. Find out how he wants to present: in a chair, behind a podium, on the stage, or level with the audience for example. Does she need a chart and stand? Regardless of the size of the audience, provide a microphone. Travel does terrible things to a person, and the effort will be appreciated. If you're doing multiple visits, provide some down time between groups for restroom breaks and relaxing. Make sure your guest knows the "quiet signal" you use in your building. If you're serving lunch, be sure to find out about any diet restrictions or requests. Don't ask the author/illustrator to change what he agreed to do on the day of the event. It will cause unnecessary pressure and could make things uncomfortable. Teach your listeners how and when to ask questions. Teach them when to applaud.
4. Sell their books. Whether you are able to use your independent bookstore or not (you can order from the publisher as well), it's always a good idea to sell books and have a signing at the event. You can also create interest by having a raffle for a signed book. Authors and illustrators often have a preference of pen, so be sure to ask. Send a note home well in advance so that books are purchased before the Big Event. You'll also need to include signing in your logistics check list.
Follow Up. After the visit, be sure to have your audience write letters, draw pictures, or write stories. Send a thank you and give the author or illustrator a quote or reference that he/she can put on his/her website. Send pictures you took, but be sure that you have permission to share the faces of your audience.
The value of an author or illustrator visit is immeasurable. In addition to creating a bond between the books and the creators, your efforts could lead a listener to follow in the same path. Read the letters your kids write after a visit. You'll find that hearts were touched and lives may have been changed. There's power in an author or illustrator visit. Be prepared. Make the effort. It can be amazing.
Online Resources for More Ideas
Poetry4kids Author Signing Preparation
Random House Author Visit Guide
Lee Wardlaw Tips for Author Visits
Awesome Author and Illustrator Visits @ Education World