Help Me with My Stress
---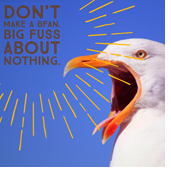 JAsk the Librarian, April 2017
by Deborah B. Ford
I'm teaching back-to-back classes. I don't have a planning period. I never have enough time. I'm running out of steam and it's just April! How can I do my job without consuming myself?—Signed Anonymous (everywhere I go)
I can certainly identify with your concerns. Truthfully, any job that you put your whole heart into can feel that way. If you're like me, you're an over-achiever who can always do it better. Though people often tell me how jealous they are of my "glamourous travel," honestly, some days, it's just hard.
So. Here are some tips to help you make it through the end of the school year or gear up for your summer reading program.
1. Enlist help. You don't (and shouldn't) do your job alone. Enlisting volunteers and delegating tasks gives students and patrons a chance for ownership. Even the small tasks add up to more time for you to do what only you can do. It's also an excellent opportunity to develop everyday advocacy.


2. Exercise. Walk to the office instead of sending someone else. Get out from behind the circulation desk. Stretch after working at a computer. Make time to walk or exercise after work.
3. Eat. Especially if you skip breakfast (which is also not good), eat a healthy lunch. Your body needs fuel to keep going. Coffee and chocolate just won't fill the bill. Keep granola bars and fruit in your office. And be sure to stay hydrated.
4. Stop creating work for yourself. Are you still stamping cards when the book is due next week? Are you running weekly overdue reports? Your computer system will tell you that someone can't have another book. Lengthen the circulation period for older students, as longer books on a one week check require unnecessary renewals. Reevaluate other policies. Do they still fit the needs of your community? Can you reuse material from past years instead of inventing something new?
5. Learn to let things go. Sometimes we make a Big Fuss About Nothing (BFAN). Ask yourself: Does it really matter? Could it have been prevented? Is there anything I can do? There's no Dewey Police. No Empty Return Cart Police. Go home. Let it go.
6. Do something just for yourself. I once had a principal who taught me this. She said, "Like me. I match my underwear to my clothes." It made her feel good about herself—though no one else knew. I take a little silver tray for my jewelry when I'm on the road. I pack my favorite robin's egg blue tea cup and lovely tea bags. No one else cares about that, but the little things can sometimes make a big difference.
In the end, it's important to remember why you work so hard. You make a difference in the lives of every person who walks through that door. You provide a safety haven. Perhaps you provide an inspirational spot for a future scientist or engineer in your makerspace. You model reading aloud for new parents and nannies. What you do is so important. You must take care of yourself so that you can take care of them.
How about you? What's your question? Ask the librarian and you could win a Librarians Rock sticker. Contact me at dford@juniorlibraryguild.com or ask me on Twitter @jlgdeborahford.