Ask the Librarian, August 2017
by Deborah B. Ford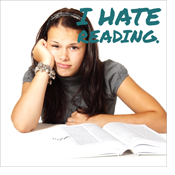 How do you respond to a kid who says "I hate reading?"—Terri, Library Assistant in CA
When someone says he hates reading, you've got to put on your Sherlock Holmes deerstalker—that's what you call his hat. You don't need the pipe, but you do need to do some investigation before you can solve this problem.
The reason why someone doesn't like to read can be numerous. Some are an easy fix—others, not so much.
He may have not found the right book.
He may have been made to read books that are too hard, too easy, or just not interesting to him, so he has resents reading.
She may have no connection to a particular book's subject.
She may read at a lower reading level and can't find any good books that don't embarrass her.
He may not be allowed to read what he wants to read.
There may be an undiagnosed sight problem or other disability.
Solutions, then, vary according to the problem. Generally, there is a book of some kind for everyone. Maybe he would rather read online, so offer digital books. If she is struggling with reading level, offer an audiobook. Devices are cool. (Check out JLG's audiobook selections. And remember to offer print and audio to the reader.) What interests a reader? What does he watch on TV? What are her hobbies? Then offer fiction and nonfiction books on those subjects.
A magazine is another way to to turn a nonreader into a reader. Once he gets interested in a subject you can recommend a related book.
Graphic novels are also a great way to grab a nonreader. JLG has 3 interest levels to meet your needs. Start with a graphic novel that began as a non-illustrated novel. Once the reader has background knowledge of the story, reading the original is much easier.
Talk to her teacher who may have additional insight into why she says she hates reading. He may have additional intel that will help you.
In the end, try not to oversell a book to a kid. He probably already feels as if he doesn't fit it. If he takes a book and can't get into it, don't make him finish. There are hundreds of other options. If he likes only one book or one author, try not to force him into something else. Sometimes it's a phase and it will pass.
Scholastic has a great article about nonreaders. It includes even more reasons and solutions. Check it out.
---