Subject Headings
---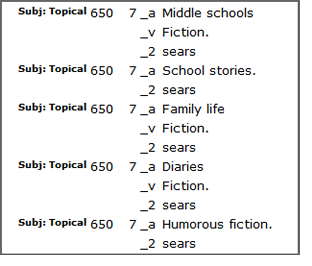 Ask the Librarian January 2017
by Erin Merold
"What is a subject heading, and what type should I choose?"
Subject headings are controlled vocabularies that help you search for items within your system—similar to a keyword search. They tell you what a book is about, and every complete MARC record will have them. For example, for the first Wimpy Kid book, some of subject headings are:
Heffley, Greg (Fictitious character)
Middle schools
Friendship
Diaries
Humorous stories
Subject headings can help narrow your search. For example, if you're looking for books about the Apollo 11 mission, searching by the keyword "Apollo" will pull up books that include information on Apollo 11. This is because the MARC records for these titles include the heading "Apollo 11 (Spacecraft)." You could even take that a step further and search by the subject heading itself, thereby weeding out results about the Greek sun god. That way you can narrow your search to more quickly find books within your library about the Apollo 11 moon landing.
JLG offers three different types of subject headings: Library of Congress Subject Headings (LCSH), Library of Congress Children's Headings (LCSH Children's), and Sears. Your library can use any combination of one or more of these subject heading types. I always recommend choosing whatever subject headings your library is already using. You can find that information by viewing a MARC record that is already in your system. If you log into your system and look up a random title from your library, you should see one of the following options: "MARC view," "Librarian view," or "Full view." Click whichever option appears on your screen. The phrasing will vary from system to system. If you scroll to the bottom, you'll see a field labeled 650. It will have one of these options:
650_0
650_1
650_7
If it has the 0, you're using Library of Congress headings. If it's the 1, you're using Library of Congress Children's headings. And if it's the 7, you're using Sears headings (the word, Sears, will also appear after each individual heading).
If you have trouble figuring out what subject headings your library is using, you can contact JLG's processing department at 800.743.4070 for assistance.