How do I get kids to return their library books?
---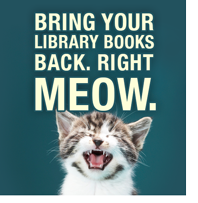 Ask a Librarian May 2017
by Deborah B. Ford
Q: How do I get kids to return their library books?—Signed Anonymous School Librarian in Arkansas
Many of you are at the end of the school year and are already thinking about how to bring in the books and perhaps start an inventory. If you see students weekly, chances are most of them will return them on schedule. However, if your library is on a flexible schedule, it may be a bit harder to round up your books. Legally, you can only hold their grades or graduation walk for only so long. Constantly sending home overdue notices seldom works.
Here are a few ideas to get you started.
Post the names of the classes who have returned all books on a wall outside the library or perhaps in the cafeteria. Teachers do not like to be excluded from the wall and will likely encourage their kids to return their books. (I once had a teacher take up a collection to pay for a book for this very reason.)
Provide incentives to beat a deadline: the first X number of students to return their books choose from the prize book box. (Those donated books you haven't had time to process.)
Literally walk from classroom to classroom collecting the books. Sometimes people have good intentions, but they get sidetracked from walking to the library.
Place an ad in the school newsletter.
Create a Facebook Live commercial on your School Library Facebook page. The more humorous it is, the more likely you'll see results. Stay positive or wittily sarcastic.
Check out our Pinterest board, Bring Them Back: Book Return Ideas. You'll see some examples of videos library folks have made.
Use the Typorama or Adobe Spark apps to have your students create infopics/memes to place around school. Put the reminders where the students go.
Place a book return box in the school cafeteria and have a student monitor each lunch.
Do a countdown on the morning news.
What about you? What works for you?
---