JLG's July Librarian of the Month honor goes to Abbotsford Public Library and librarian Jenny Jochimsen. We could tell from seeing her library's social media posts that she and her library supported their community even if they had to get crafty. Read on to learn more about Jenny...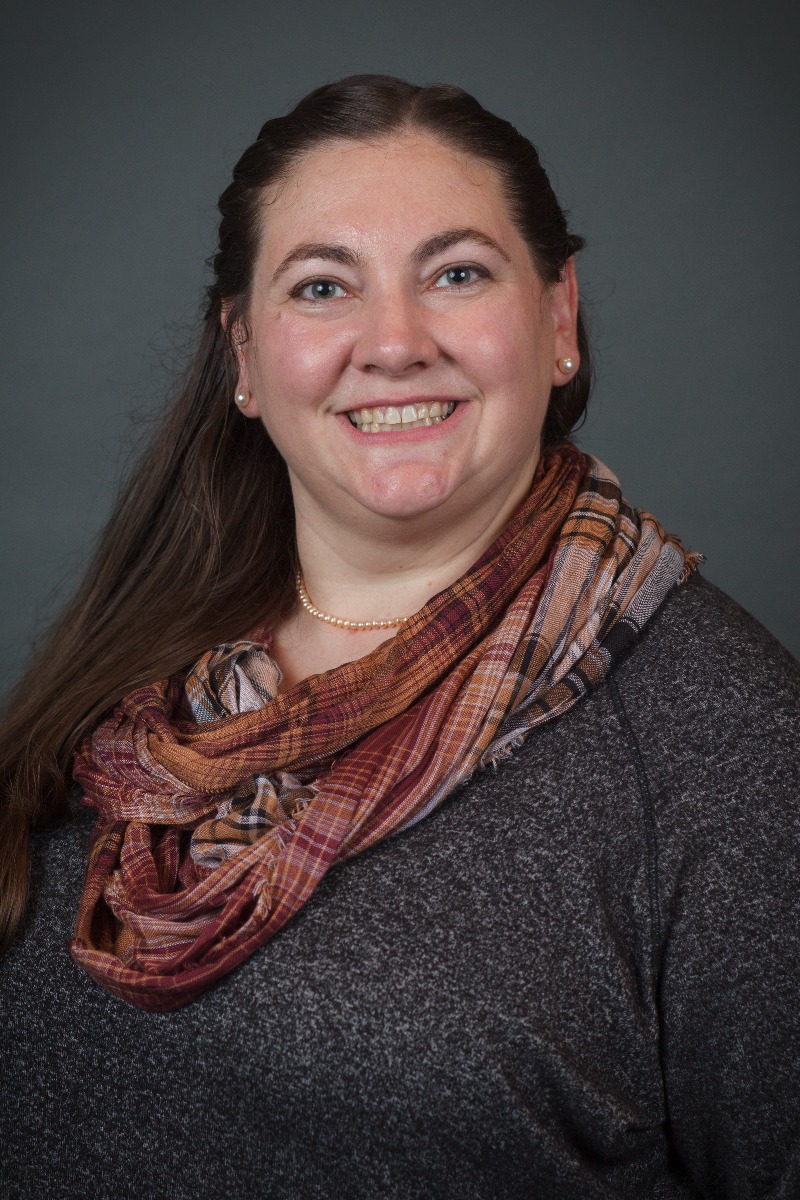 Jenny Jochimsen, Library Director at Abbotsford Public Library
Rooted in Libraries
Jenny Jochimsen has been the Library Director at Abbotsford Public Library for 4 years. She's been working for libraries for 12 years. Her love for libraries sprung up from her love for books. Growing-up, she fondly remembers riding her bicycle 5 miles to the library with her 3 sisters, with whom she would share her book bounty. Jenny mentions how important libraries and books have always been in her life and comments that she "can't remember a time not reading."
Jenny got her undergraduate degree from the University of Wisconsin-Eau Claire with a major in Social Work and a minor in Library Science. While at the University of Wisconsin-Eau Claire, she began working as an aide at the university's library. After graduating, she began working at the Hudson Public Library and went back to school to get her Master's degree in Library Science! She spent 6 years at the Hudson Public Library in acquisitions and 2 years as the young adult librarian, before moving to the Abbotsford Public Library only 15 minutes from where she grew up.
Wisconsin's First City
Wisconsin's First City is a name given endearingly to the first alphabetically listed city. Abbotsford has about 2,300 people with a large Spanish-speaking population. The library that supports Abbotsford was rebuilt about 12 years ago to resemble a train station! Talk about a community hub!
The library works closely with the community which I saw first-hand while interviewing Jenny. City Council supports the library both in office and as individual community members. The library holds many public events, including family movie nights, fancy tea parties, and life-size Candy Land game nights. They also host biannual puzzle room/scavenger hunt events where "kids get to explore the whole library to find clues to open a box and get a prize," said Jenny. They also provide a space for English language learners and literacy classes. Jenny has been incorporating as many Spanish language or bilingual titles into her collection as possible. She has noticed that even picture books are being used for those beginning to learn English or Spanish.
| | | | | | |
| --- | --- | --- | --- | --- | --- |
| Snail Make-and-Take | Jelly Fish Make-and-Take | Fruit Fan Make-and-Take | Unicorn and Dragon Banner Make-and-Take | Butterfly Weaving Make-and-Take | Life Sized Candy Land |
Crafting with the Community
Jenny comes from a family of crafters and mentions that many of her family members actually go to craft shows and sell what they've made! Her library always offered some sort of passive craft for kids to do when they visited the library, but COVID-19 took it to whole new levels. Jenny found that because of COVID-19, her library couldn't offer many of the programs they usually had before; but that didn't stop her from finding the perfect solution: crafting! Jenny started creating four to five Make-and-Takes crafting kits for kids to make at home every month! Jenny has made kits for dragon puppets, fairy houses made from folding the pages in an old book, friendship bracelets, weaving, fruit fans and so many more! She even records herself making the crafts on Facebook to guide kids through the activities!
Queen of the Community
One of Jenny's favorite programs is her monarch butterfly release. Jenny sets up an aquarium with caterpillars so that library patrons can watch caterpillars turn into butterflies! She even grows the milkweed plants for the caterpillars to eat. "Children usually get to help with the releases, but with COVID I'll try to include whatever child might be in the library at the right time and also put it on Facebook live for everyone!" said Jenny. She expressed that she hopes this grows a respect for nature in her community and doubles as a fun event for kids.

Jenny has seen libraries evolve from a place where book lovers congregated to a place where almost everyone can find something they enjoy whether that be a good book, gaming gear or something else. Libraries have really become community hubs, thanks to the work and dedication of librarians like Jenny. "You can find yourself in books or escape in a book or learn something new. Libraries have evolved, but for me, they have always been a safe, happy place and that will never change."
| | | | |
| --- | --- | --- | --- |
| Jenny Teaching About Monarch Butterflies | Jenny Releasing a Butterfly | Abbotsford Public Library Monarch Butterflies in the Making | Abbotsford children releasing butterflies |
---
Are you a good candidate for our next JLG Librarian of the Month—or do you know someone who deserves some recognition?
Share the deets with us on social using #JLGLibrarian and tag us @juniorlibraryguild! Any librarian or library worker is qualified for this honor, so show us what you're doing to advance literacy and the love of reading in your library! Recognized librarians receive a "Librarian of the Month" certificate, a tote bag of JLG goodies and a special offer for JLG categories and books!