JLG's Librarian of the Month honor goes to North Central High School in Kershaw, SC and its dedicated team: Librarian Bambi Ferrer and her assistant Jimmy Huggins. A JLG member for 9 years, North Central High School caught JLG's eye with their dedication, innovation, and perseverance in the face of a chaotic year. Here's their story...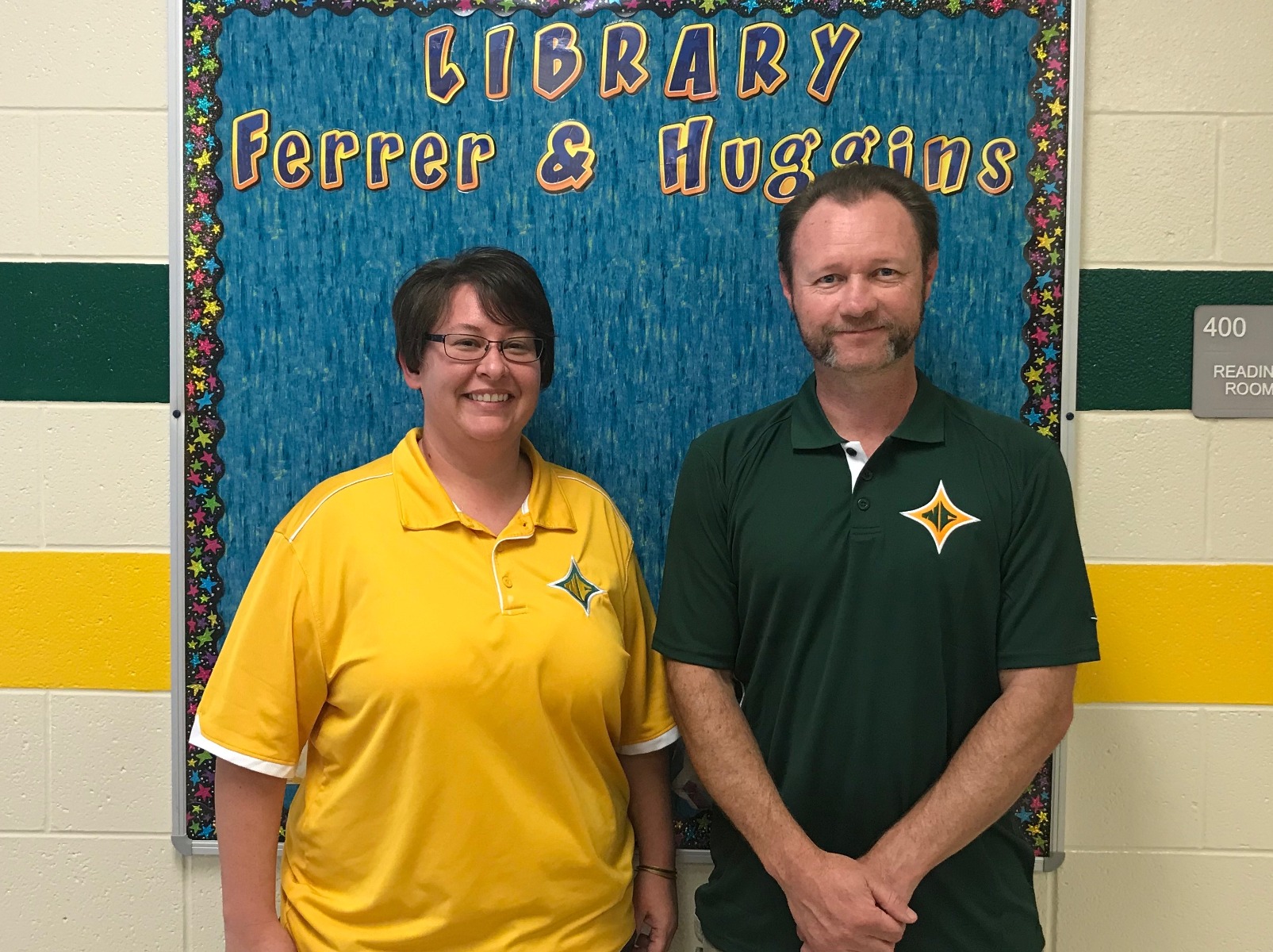 Librarian Bambi Ferrier and library assitant James (Jimmy) Huggins
Wavering

Paths

to the Library
Both Bambi and Jimmy travelled wavering paths to their current positions in the North Central High School media center. Bambi received her undergraduate degree in mass communications. Then, after spending some time in the business world, she felt it was time for a change and found a master's program that gave her an MA in Education and all the certifications needed to teach. Within a few short years, she received her MA and landed a position at a local school.
Due to a recession, her district was forced to lay Bambi off, so she found herself searching for a new position. That's when she first considered being a media specialist. Laughing, Bambi mentioned that it was then she realized being a media specialist was more than "little old ladies that loved books." Shortly after, Bambi decided to go back to school and get an MILS to work in the media center.
Growing up, Bambi never really read for fun. However, she'd always loved computers; she affectionately remembers her Tandy 1000, on which she'd spend 30 minutes typing code just to change the font! But, when her friends convinced her to read the Harry Potter books, her love of reading grew. By the time she became a librarian, she had sprouted into an avid reader, kept her admiration of coding and computer sciences aflame, and was armed with all the tools necessary to lead her students towards a brighter future.
Jimmy's path met with Bambi's many times throughout their lives. Growing up in Kershaw together, Jimmy's close friendship with Bambi's older brother made them familiar from a young age. Both attended North Central High School and fondly remember their old library.
Starting his career in the military, he moved into healthcare after nearly two decades of service. Another decade later, he decided to step back and re-evaluate what was important in his life. He realized that spending time with his son was what mattered most, so he left his job in healthcare and began working for the school district. He now spends half his day with Bambi at the high school and the other half in the middle school library.
Teamwork Makes the Dream Work
Bambi and Jimmy have a phenomenal partnership. Due to Jimmy's help in the library, Bambi can volunteer teach a computer science class once a year, helping their students learn skills for future coursework or careers. "Bambi took it upon herself to teach [the CS class] as a benefit to her students. She made the time despite all of her responsibilities and still gives it 100% of her effort, as she does everything else," Jimmy mentioned.
Since they attended North Central High School as students, Bambi and Jimmy have a unique perspective of their library. Growing up, they remember the library being very different and much quieter. When Bambi took up the media specialist position, she wanted to change that. Together, this dynamic duo has transformed their library into a safe, open-door space where students come for research, questions, coursework, and even lunch! They've created an environment where students want to be. During lunch time it gets so packed that it is standing room only!
Both Bambi and Jimmy mentioned that even though students coming in for lunch or just to hang out don't always check out a book, they're happy to have them there, because the more they're in the library, the more literary content their students are exposed to. Whether students need help with math homework or teachers need help planning lessons, Bambi and Jimmy are always there.
This year, every library has seen its fair share of difficulties. Many are still facing them daily. But Bambi and Jimmy have had an even more tumultuous year. On January 11th, a tornado swept through the school, damaging much of it in a matter of seconds. Sadly, their entire collection was lost. But that didn't get their spirits down – they immediately set to work devising plans to get the library running again in the school's new, temporary location.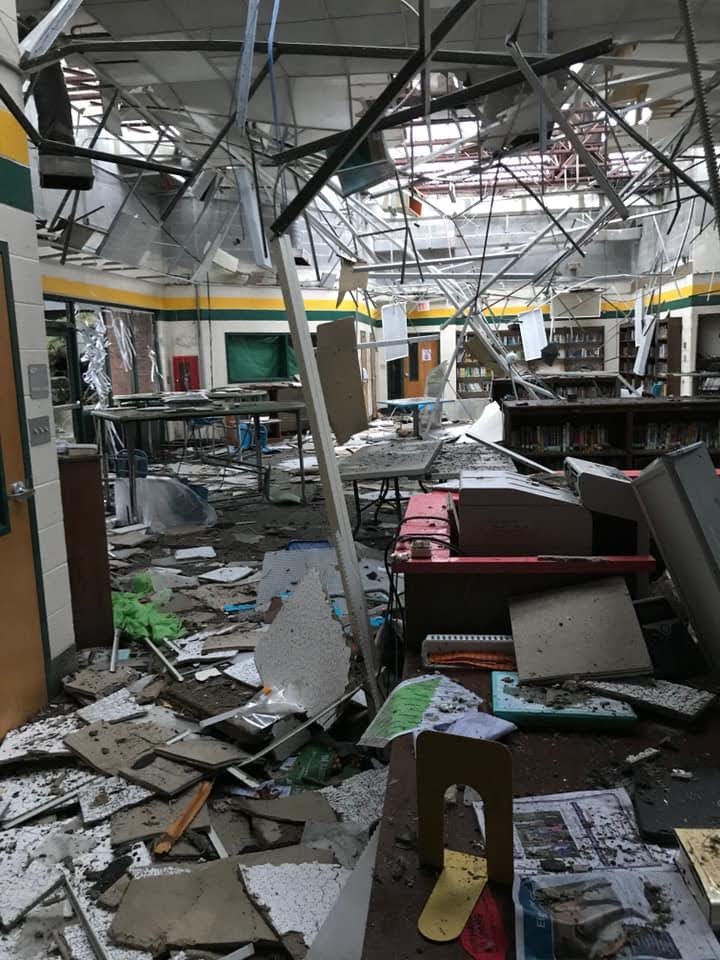 The North Central High School Library after the January Tornado
Not long before the tornado, Bambi and Jimmy had participated in a Rubik's™ cube challenge with the students. Together, staff and students alike completed 600 Rubik's™ cubes and then made a mosaic of their school logo, which won a Rubik's™ cube competition! However, that mosaic was still in place when the tornado ripped through the library. Bambi chuckled as she mentioned that they've been finding Rubik's™ cubes everywhere in the rubble – some were even found outside in the community!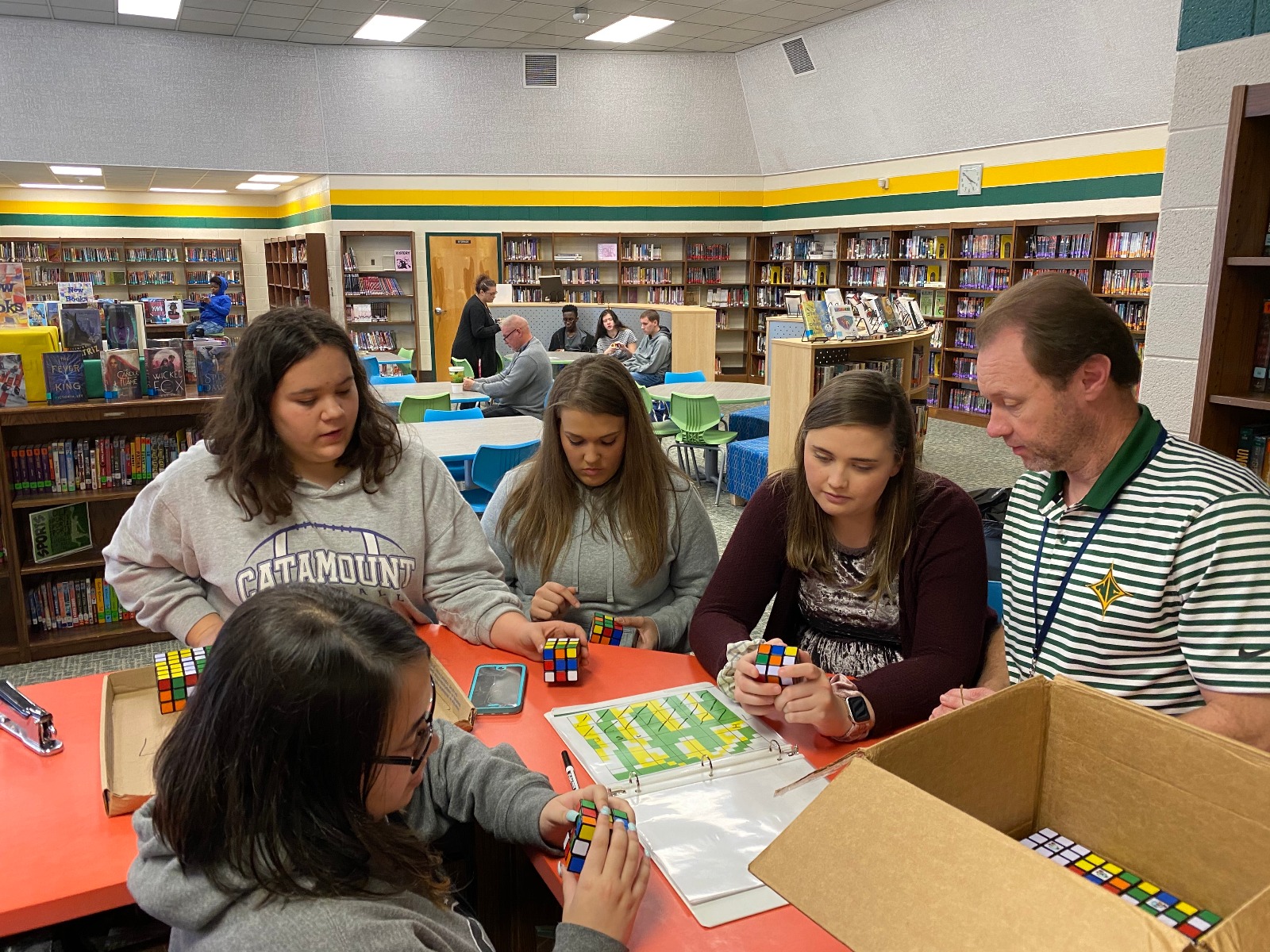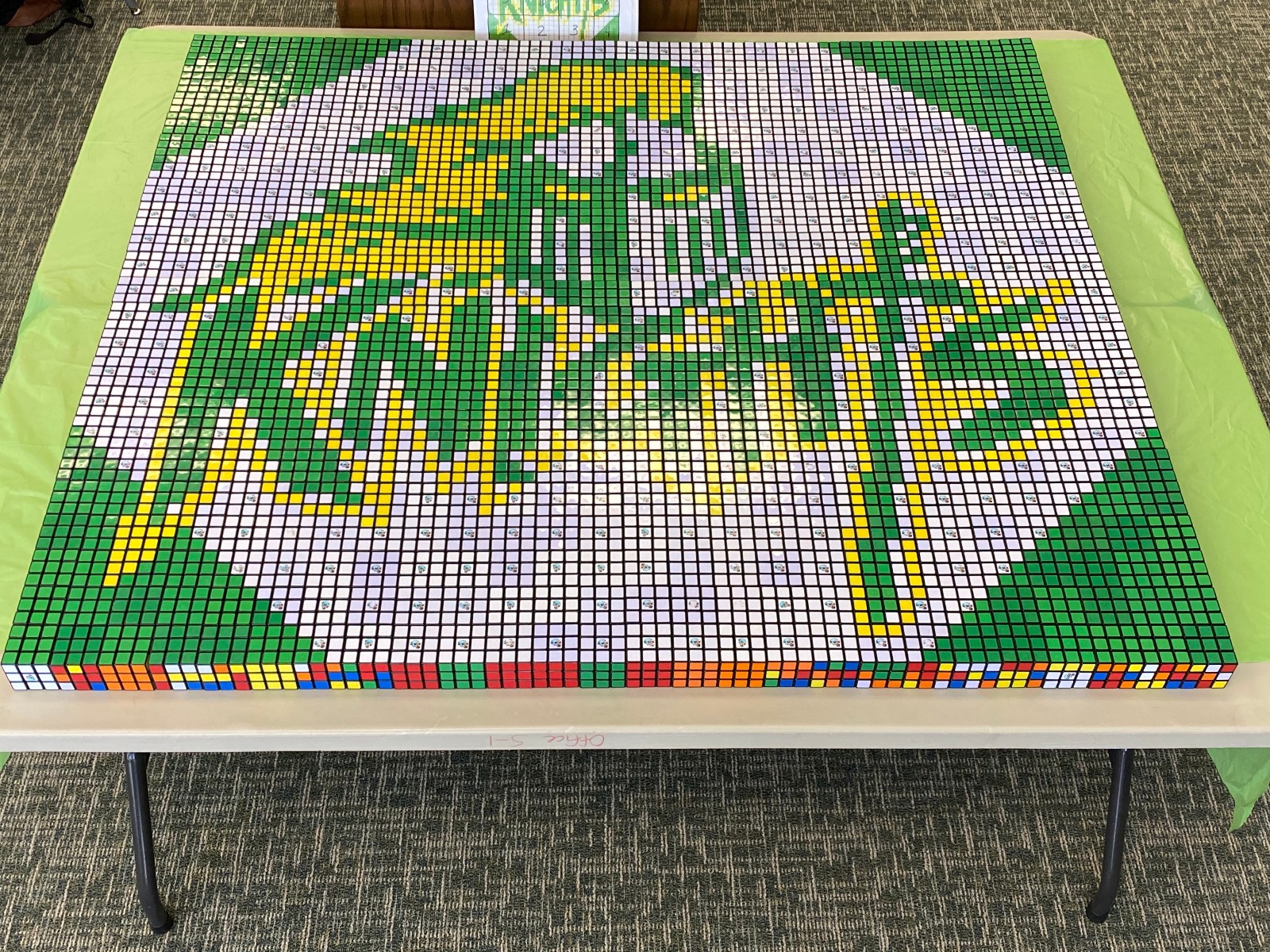 Students solving Rubik's™ cube puzzles in the library with Jimmy alongside their completed, award-winning school logo mosaic.
By the time their school closed due to COVID-19, Bambi and Jimmy still hadn't gotten their new, temporary library ready to start circulating books again. "My kids haven't checked out any books from the library since January, so my goal for the fall is to be ready," Bambi said. And, because of the help of each other, their community, and their colleagues, they are on the way to meet that goal once school resumes.
Thankful for their Community
Bambi and Jimmy have worked tirelessly to provide their students and colleagues with a safe, open space to learn and engage with each other, despite the crazy circumstances 2020 has thrown their way. With the support of their community, their dedication, innovation, and perseverance will continue to see them through.
"Everything we do," Jimmy said, "is about our students." Both educators love their work and cannot thank their community enough for helping them to continue to serve their school.
"I want to say, 'thank you' to everyone who has helped me this year," Bambi said. "My staff and community are amazing. My staff feels like a real family; my assistant is like a brother and a good friend. Thank you to those who reached out to us to help pick us up out of the crumbles."
With as many successes and innovations as they achieved in the face of challenges -- we at JLG can't wait to see how much Bambi and Jimmy will accomplish this school year!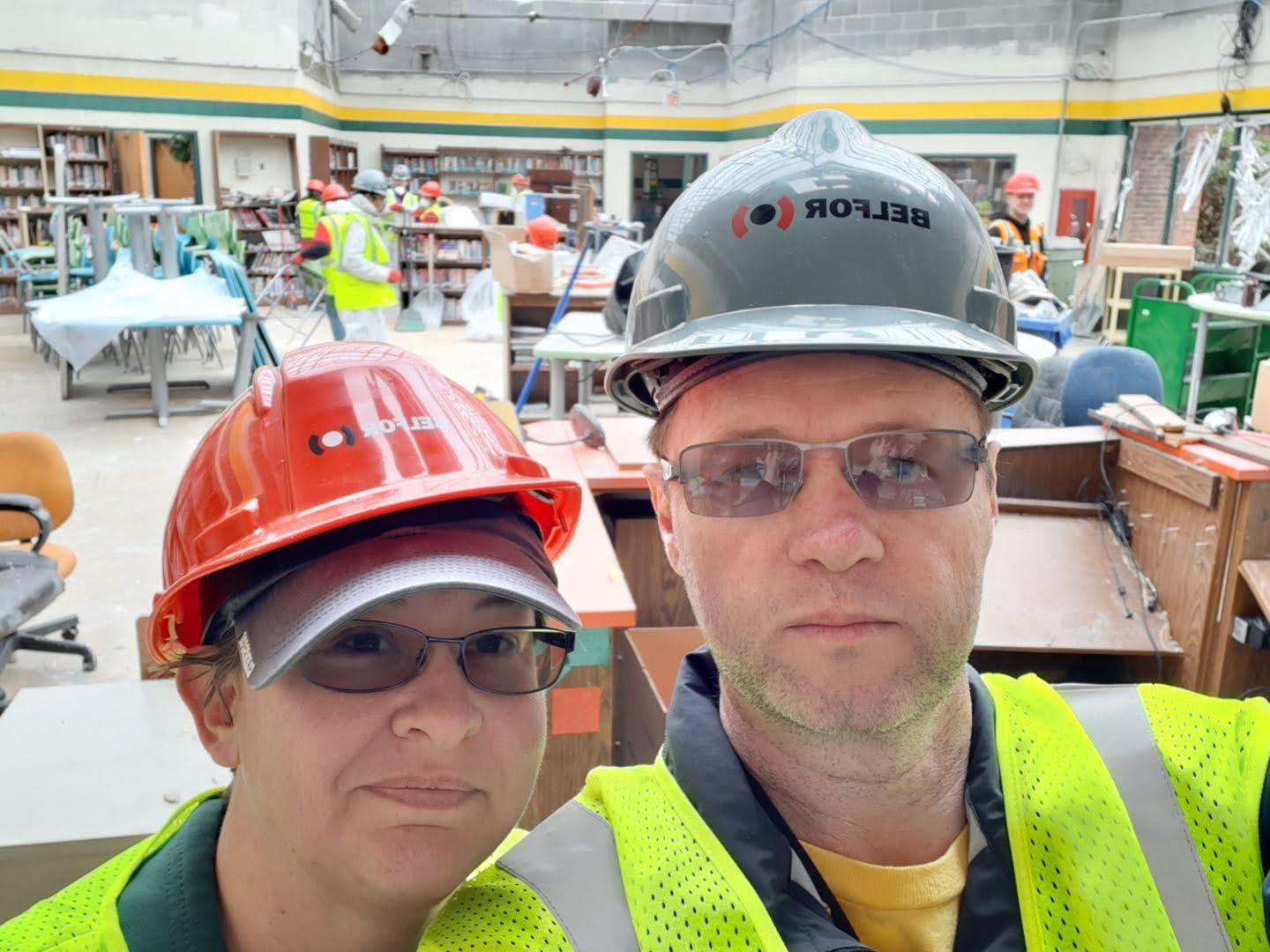 Bambi and Jimmy in hard hats, ready to take on any challenge!