JLG's January 2021 Librarian of the Month honor goes to Eagle Mountain City Library and their enduring and passionate director, Michele Graves. A JLG member for 11+ years, Michele caught our eye because of her evergreen adoration of the library and successful advancement of her library and community. Here's Michele's story...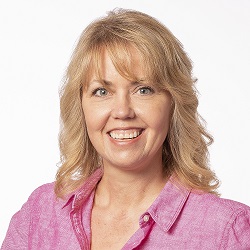 Eagle Mountain City Library Director, Michele Graves
A Budding Community and Librarian
In 1999, Michele and her family moved to Eagle Mountain, Utah. Born and raised in California, the small community of around 2,500 people was a welcome change for the next chapter of their lives. After spending 10 years in the medical field, Michele decided she wanted something different and saw an open position for the library director.
She chuckled as she recanted her initial interview. The entire board and members of the city all interviewed her, really showcasing the intimacy and involvement of a tight-knit, small community. Growing up with an avid love and appreciation for libraries, Michele remembers biking 5 miles as a teenager just to visit her local public library. Because of this, she was excited when learning she got the job! She of course accepted the position and quickly began working to expand their community library past the four-walls of a small 12ft by 12ft room inside the local fire station.
Starting with only that small room and a host of volunteer helpers, Michele had her work cut out for her. But that didn't stop her from figuratively rolling up her sleeves and getting to work. Over the years, she's tirelessly written grant proposal, held fundraisers, and worked closely with city budgeting to grow and expand their library. And she's succeeded marvelously: their library has expanded three times under her directorship to their now 4,500+ square foot space.
Her love and dedication to the library and community are what helped it grow into a bustling hub. Today, the population of Eagle Mountain is closer to 40K, and the library has moved into a much larger space with the hope of coming additions. On top of that, Michele's work has helped her expand the library staff, too; there are now 11 paid employees working at Eagle Mountain Library. The library definitely bloomed under Michele's expert guidance.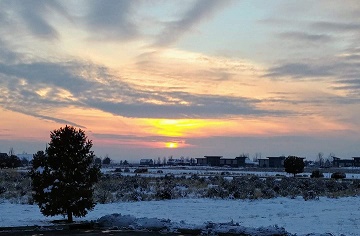 Left: the front of Eagle Mountain City Library. Right: the gorgeous view visitors get from inside the library
Community Engagement and Fun
Michele is a director that goes above and beyond for her community. Not only has she worked hard to expand the library itself, but to also expand its community engagement and programming. Before and after the COVID pandemic, Michele and her staff created and accomplished many programs to keep their community involved with the library. From virtual events, take-and-make crafting kits, to outdoor sporting fun, the Eagle Mountain City Library staff work hard to make their library a community hub.
Like any public library, programming is a key means for community engagement at Eagle Mountain. Michele and her staff take programming very seriously all while making it fun for themselves and their patrons. Also like many libraries, COVID has forced much of their programming to become more creative than ever before. However, that hasn't stopped them from happily planning their entire 2021 summer around COVID restrictions and protocols. Michele listed a selection of items – tents, trailers, tables, and more – that they plan to use in Summer 2021 to travel around Eagle Mountain and engage safely with the community.
One additional thing that makes Eagle Mountain unique, and in turn the library programming Michele and her staff collaborate on, is the average age of their population. With nearly 40K in the community, their average age sits around 18-19 years old. The Eagle Mountain Library staff are then forced to consider activities and books young adults and children would prefer to participate in. One activity they schedule annually (especially before COVID) is outdoor community field days! To Michele, this field day event was a double-edged sword: it brought the community together and engaged them with the sporting equipment they could check out from the library at any time.
Within the context of COVID, Michele and her staff have worked to make sure their community feels supported by the library. Since March 2020, they've ramped up their virtual programming, began distributing take-and-make crafting kits for their younger patrons, and even started traveling to school classrooms for Storytime and library-card distribution. COVID hasn't stopped them from engaging with and supporting their community to the best of their ability.
Some Love for JLG & Saving Time
As a busy director doing multiple jobs at her library, Michele decided to use JLG as a vendor fairly early in her library career. One of Michele's many duties includes collection development and acquisition. It's in this respect that JLG shines for her – she loves that we save her time while still providing her with books her community loves. Like many others have mentioned to me throughout my years at JLG, seeing the Gold Standard sticker on a book lets Michele's patrons know it'll be a book they'll enjoy. In the end, we're happy to help Michele save time and energy so that she can focus on her community and expanding her library even more!