In preparing for this year's Women's History Month celebrations, we wanted to give a quick shout-out and thank you to the education profession for spearheading what would later become Women's History Month. Without the dedication and movitation of educators like yourself to ensure gender equity in US education, Women's History Month might not exist. It is with gratitude that we curated a list of JLG Gold Standard Selections celebrating women's history and voices for our memebers to browse and shop!
---


Recognizing a Missing Piece of K-12 Curriculum
During the 1960-1970s, female idols like Shirley Chisholm, Gloria Steinem, and Betty Friedan were sparking roaring discussions over the role and importance of women's contribution to America. It was also during this time that the women's liberation movement lurched into full swing. In response, several women's organizations formed across the nation, many of which worked closely with their communities to host woman-focused programs. One such organization, founded in 1975, was the Sonoma County Commission on the Status of Women. Their goal was to "take affirmative action to eliminate the practice of discrimination and prejudice because of gender in the areas of housing, education, community services, and related fields."
Simultaneous to the women's liberation movement was a growing concern by historians that women's history had been grossly overshadowed and under prepresented in common historical discussions. Some teachers, ever at the forefront of educational discourse and shifts, were inspired to look closely at their own school's curriculum. A group of educators and members of the Sonoma County Commission on the Status of Women, faced with a glaring silence of women in K-12 curriculum, came together to form an Education Task Force to tackle the issue in their community.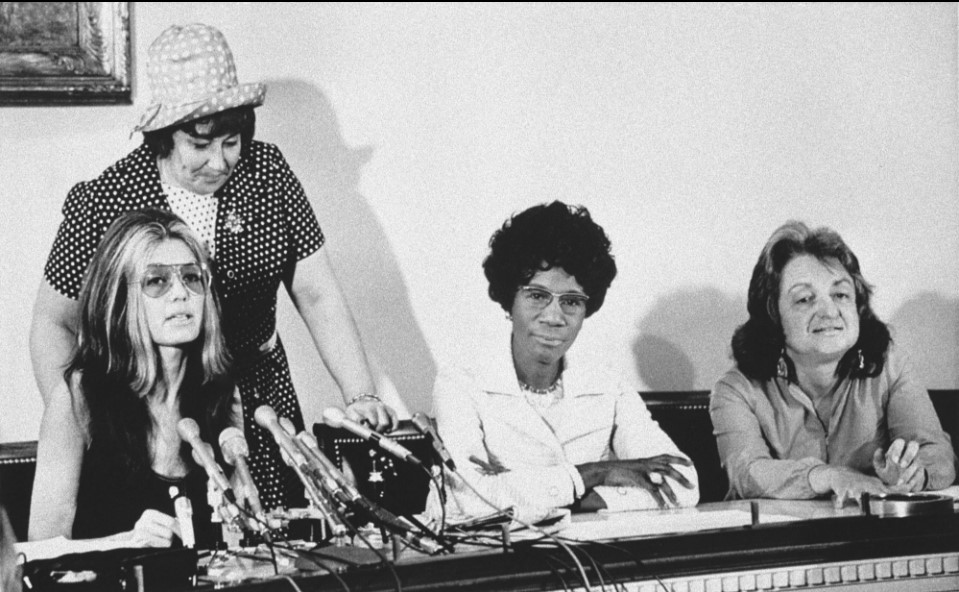 An image captured at the July 1971 National Women's Political Caucus
news conference in Washington, D.C. Seated are Gloria Steinem (left)
Rep. Shirley Chisholm (middle), and Betty Friedan (right). Standing behind
the trio is Rep. Bella Abzurg. Photo courtesy of the Washington Post
.
Mobilizing a Movement and a Week
The members of the Education Task Force in Sonoma County worked with local schools to address the silence of women in the K-12 curriculum. One solution proposed and acted on in 1978 was the creation of a Women's History Week celebrated the week of March 8th, corresponding with International Women's Day. More successful than the task force originally intended, the event was enthusastically grasped by schools and the community, with more than a dozen classes organizing events for their students. Over 100 women even traveled to classrooms across the county to educate and discuss with students the importance of recognizing women's contributions to history. At the end of that first Women's History Week in 1978, the people of Sonoma County celebrated with a final program and parade in downtown Santa Rosa.
In 1979, the success of the first Women's History Week in Sonoma County inspired historians and leaders in similar organizations across the country to take up the mantle in their own communities. It was around this time that a big push first began in support of a nationally recognized Women's History Week. In 1980, the women received their national support when President Carter in February declared that the week of March 8, 1980 would be recognized as National Women's History Week. The next year, a group of federal representatives reached across the aisle to declare the same in March 1981, showing there was wide-ranging support for "recognizing, honoring, and celebrating the acheivements of American women."
The Formation of National Organizations and Institutions
As word spread across the nation of cross-party support for Women's History Week, school boards and communities encouraged celebrations of the week as a means to achieve equity goals in classrooms. Some states created and distributed educational materials to schools during this time, while local organizations worked with the community to sponser essay-writing contests and events honoring American women. Within a few short years, thousands of schools and communities celebrated Women's History Week with the aid and support of school boards and their local and state governments.
However, the increased involvement with Women's History Week and the focus on American women's achievements across the nation also sparked the creation of national organizations. For example, in 1980, the National Women's History Project, which later became the National Women's History Alliance, began in Santa Rosa, CA. In 1995, the National Women's History Museum was founded with the goal to set women's history alongside common historic moments and exhibits.
Lobbying for Women's History Month
While the event held growing popularity across schools and communities, a more permanent national resolution supporting Women's History Week was still absent. Each year, new efforts were pursued to lobby for the holiday to national representatives. From 1982 to 1987, Congress passed joint resolutions designating a week of March to be Women's History Week and urged the President to proclaim his support to the country in hopes that people would seek to learn more about women's contributions to US history.
However, after the fifth consecutive year, the National Women's History Project petitioned the US Congress to pass Public Law 100-9, which federally recognized the month of March as Women's History Month. Since then, every sitting US president has issued a proclamation calling for the celebration of March as Women's History Month, a time to celebrate and learn about the contributions and achievements women have made to American history.
---


Special Offer:



In honor of the contributions and achievements of all women, we have curated a list of JLG Gold Standard Selections highlighting women's history and voices -- all for just $10 each through February 28! We know that keeping an up-to-date, diverse collection of titles is the goal of any library, so check out these JLG titles and categories perfect for diversifying your collection!
Shirley Chisholm is a Verb!
Written by Veronica Chambers
Illustrated by Rachelle Baker
Category: Biography Elementary Plus
Ms. Gloria Steinem: A Life
Written by Winifred Conkling
Category: Biography High Plus
Almost American Girl
Written by Robin Ha
Category: Biography Middle Plus
Little Frida: A Story of Frida Kahlo
Written by Anthony Brown
Category: Arts Elementary Plus
Changing the Equation: 50+ US Black Women in STEM
Written by Tonya Bolden
Category: Biography Middle Plus
Rise!: From Caged Bird to Poet of the People, Maya Angelou
Written by Bethany Hegedus
Illustrated by Tonya Engel
Category: Biography Elementary Plus
The Ocean Calls: A Haenyeo Mermaid Story
Written By Tina Cho
Illustrated By Jess X. Snow
Category: Multicultural Elementary
Kamala Harris
Written by Kelsey Jopp
Category: Series Nonfiction Social Studies Grades 6-8
The Bug Girl (A True Story)
Written by Sophia Spencer and Margaret McNamara
Illustrated by Kerascoët
Category: Nonfiction Early Elementary
In Good Hands: Remarkable Female Politicians from Around the World Who Showed Up, Spoke Out and Made Change
Written by Stephanie MacKendrick
Category: Biography High Plus
_____________________________________
Sources:
"Commission on the Status of Women in Sonoma County: History", The County of Sonoma.
"Why March is National Women's History Month", The National Women's History Alliance.
"Women's History Month", The Library of Congress.
Want to pick up these JLG Gold Standard Selections and more
Shop JLG's curated list of titles highlighting women's history and voices!
Need help choosing the best categories for your library?
Contact your account rep or call us at 800.491.0174 for personalized guidance.