The Start of NCAA Men's Basketball Tournaments
On March 27, 1939 in Evanston, IL, the first NCAA Men's Basketball National Championship game was played. Hundreds of onlookers cheered as they watched two of only eight teams invited to play in the championships battle it out on the court: the University of Oregon and The Ohio State University. Fans of the Buckeye State returned to their homes dismayed after a loss of 46 to 33, yet exhilirated by the energetic madness of that closely matched March championship game.
For the next twelve years, the championship games saw only eight teams pitted together in March, creating avid fans and team supporters of various college basketball teams. The popularity of the March college championship games had only just begun.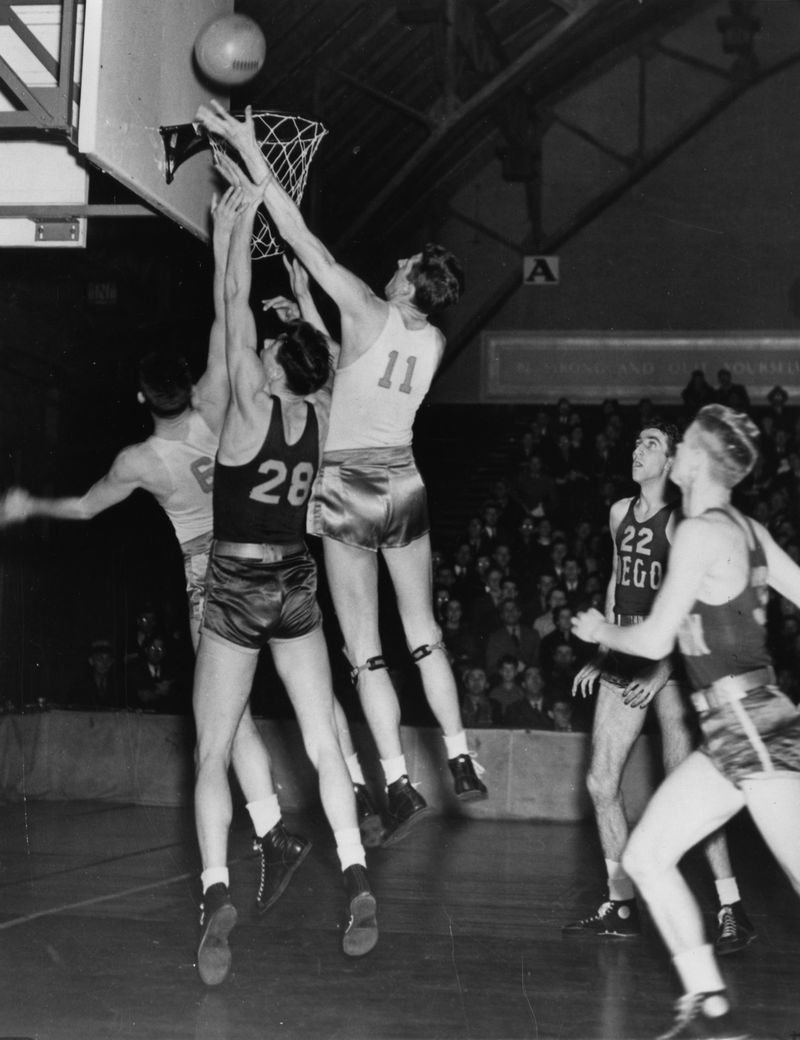 Image provided by the Chicago Tribune.
"
Ohio State's John Schick goes up to tip in a shot over Oregon's Lauren Gale (28)
and Teammate Dick Baker during the first NCAA title game.
It was held at Northwestern's Patten Gym in Evanston, on March 27, 1939.
(AP)"
The Making of "March Madness"
In March 1939, as the first national men's championship game commenced, high school basketball coach, former teacher, and executive secretary of the Illinois High School Association (IHSA), Mr. Henry V. Porter, wrote to the organization's March issue of Illinois High School Athelete about the almost maddening response fans had towards his team's state championship win. "A little March madness," he wrote, "may complement and contribute to sanity to help keep society on an even keel."
Inspired by the phrase and national NCAA tournament, Mr. Porter wrote a poem in 1942 dedicated to March Madness titled "Basketball Ides of March." In this poem, Mr. Porter brings to life the thrilling feel of the being an onlooker in a gleaming, glowing gym room with men in silk suits waging war on the court while fans cheered on from the stands. He painted a picture of pure joy and madness that graced gyms across the nation every March.
Growing Generations of Fans and Teams
The phrase "March Madness" quickly made its way into sports news networks and took off as the popular colloquialism to describe the growing March basketball championships. Likewise, the demand for March Madness tournaments steadily grew over the first twelve years until the early 1950s, when the number of teams invited to face off increased from eight to sixteen in 1951. The count then doubled again in 1975 to thirty-two teams, before expanding to its current size of sixty-four teams in 1985.
Simultaneously, women were invited to the tournament with their own March Madness in 1982, beginning with thrity-two teams in their first few years of tournaments. By 1994, the women's basketball tournaments had expanded to sixty-four teams as well.
Today, both men and women's March Madness tournaments are a staple of the majority of American homes. Even JLG is getting on the maddness magic this year, celebrating this tradition with our member-exclusive March Mania virtual warehouse sale from March 22-26, 2021!
__________________________________
Sources:
Time Magazine, "The Surprising Poetic Origins of the Phrase 'March Madness'."
IHSA, "A Brief History of March Madness."
History, "'March Madness' Crowns its First men's NCAA Champion."
NCAA, "March Madness History - the Ultimate Guide."