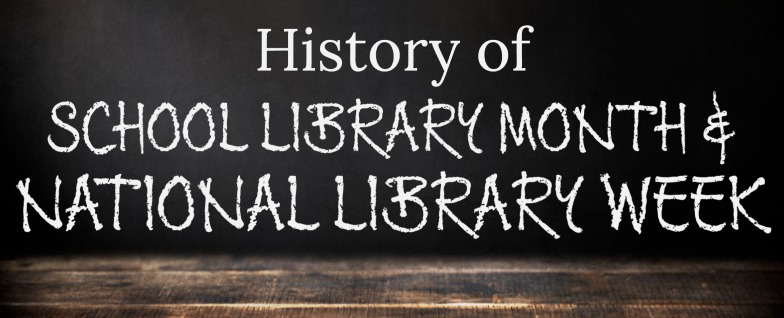 Celebrating libraries has been a recognized American tradition for over 50 years. In April of each year, libraries across the nation host events and plan activities to help their communities celebrate and understand the central role libraries play in society. Schools celebrate School Library Month, where the Association of School Librarians (AASL) encourages students to learn the importance of school libraries. At the same time, the American Library Association (ALA) spearheads National Library Week, a nationally recognized observance of the importance of libraries and the wealth of knowledge they offer the nation.
Here's how these two commemorations began and evolved over the years.
Digital Media Demand and National Library Week
In the early years of the 20th century, there was a boom in U.S. mass demand and consumption of media. By the 1950s, digital media – mostly television and radio – became popular, household necessities. Nearly every American home had at least one television or radio, if they did not already own both. As the demand for these digital mediums grew, the demand for books unfortunately declined. Americans simply spent less money on books and instead put that money towards music, television and broadcasts.
Concerned reading would continue to decline, the ALA partnered with the American Book Publishers Council in 1954 to form a nonprofit organization called the National Book Committee. The committee's goals were at first ambitious and actionably vague. They hoped to do everything from encouraging citizens to increase reading during leisure time, to improving health and income, and even to developing stronger and happier families.
Within four years, the committee started marketing to promote reading across the nation. Their theme for the first two National Library Weeks in 1958 and 1959 were "wake up and read!" (you can see a full list of National Library Week themes here). And, with the help of hardworking and devoted librarians across the nation, it was a success! Ads were placed on all forms of media, reaching 68 million magazine subscribers, 170 million American television and radio owners, and 11,607 newspapers, while the USPS carried National Library Week postage stamps with the "wake up and read!" slogan. Overall, more than 5,000 communities participated the first National Library Week of March 16-22, 1958.
The next few years of National Library Week celebrations went relatively well in comparison to that first year. Reading seemed to be on the rise in American households. So, in 1974, the National Book Committee disbanded, and the ALA became responsible for all future National Library Week celebrations under the direction of the Public Information Office (PIO). But the change of leadership delayed planning for the next year's celebrations, and the 1975 date was moved from late March to April 13-19. With the help of the PIO, though, the ALA saw its best participation in National Library Week to date. Several librarians across the country, including the then-ALA president Edward G. Holley and vice-president Allie Beth Martin, addressed as many US senators as they could to advocate for more public spending towards libraries. And again, they succeeded – federal funding increased, and the week-long commemorations continued to advance the message of the library's importance to American society.
From Capitol Hill to School Library Month
In 1983, just a few decades after the start of National Library Week observances and increased federal budget and recognition of public libraries, the School Library Media Month Committee elected a new chair, Dr. Lucille Thomas. Dr. Thomas was an advocate for library recognition and growth throughout the U.S. and singularly spearheaded the efforts to make School Library Month a reality.
Dr. Thomas and her team (comprised of Edna Bayliss, Elsie Brainard, Winona Jones, Elizabeth Kenneson, Elinor McCloskey, and Virginia Moore) extensively researched previous state and local celebrations of school libraries, and together composed a 52-page guide for celebrating the first national observance of School Library Month.
In April 1985, their first theme was "where learning never ends: the school library media center." To kickstart the campaign, Dr. Thomas, her team, and other librarians and supportive community leaders from across the nation gathered on the west steps of the U.S. Capitol Building. A NY senator gave a speech thanking school librarians for the important role they play in shaping American youth, and in turn, future leaders. Unlike National Library Week, School Library Month was never fully recognized as a national commemoration, but it has lived on as one due to the dedication of school librarians everywhere. Every year since 1985, school librarians have advocated to their local government and school board to recognize and celebrate School Library Month – many using proclamation templates provided by the AASL.
JLG Celebrates You and Your Libraries!
For the month of April, we want to celebrate our member librarians and the hard work they put into making their libraries a central part of their schools and communities. See more JLG "Hats Off to Librarians" activities and events here celebrating you and your library!
____________________________
Sources:
"National Library Week History," ALA.
"School Library Month History," AASL.
"National Library Week: How ALA's annual advocacy event got started," American Libraries.