"Can you recommend a great book?" is a question I am often asked by friends, family, and colleagues. I read for a living, so it shouldn't be a hard question, but in fact, it is absolutely paralyzing. (Librarians, how do you do it?) Instantly, questions are going through my head. Do you mean titles that have already been published or that are forthcoming? Do you mean books for young children or adults or adults who work with kids? Perfect for a particular type of reader? Funny? Sad? Important? Fiction or nonfiction? Do you have a format in mind?
This month is a celebration of Asian American and Pacific Island Heritage. You might think that coming up with recommendations for stellar books by AAPI authors and illustrators would narrow down the choices, but no. The variety of quality, immersive books across all age levels, formats, and styles is astonishing. I asked our editorial staff to contribute to this list, and they enthusiastically came up with some favorites. These are just a sampling of the books we have read and loved and highly recommend for your young patrons and your friends, family, and colleagues. We are always looking for more.
Click the image below to view or download a complete list of JLG Editorial recommendations perfect for readers of all ages!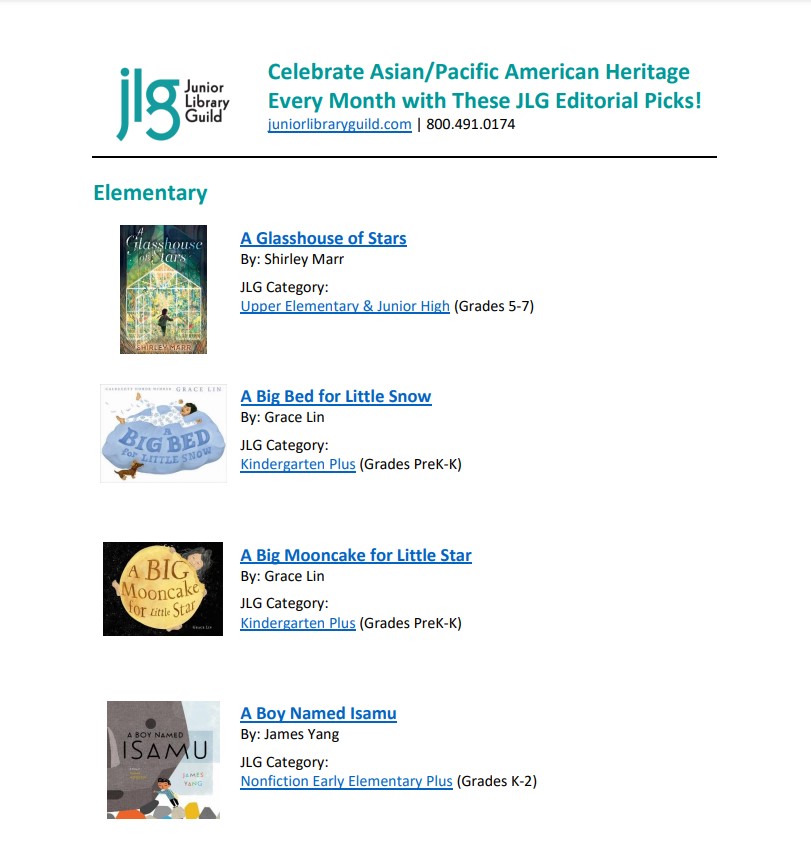 Want to learn more about the history of Asian/Pacific American Heritage Month?
Check out our newest blog post!