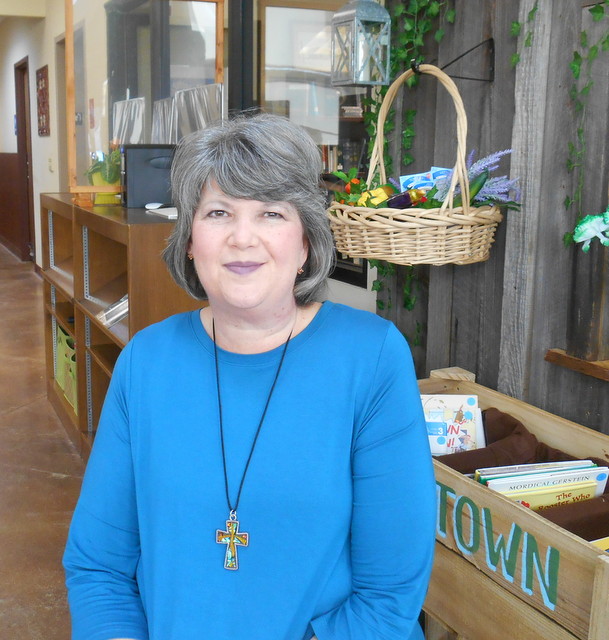 JLG's July 2021 Librarian of the Month honor goes to Collinsville Public Library and their driven, compassionate, and community-oriented director, Jennifer Wilkins. A JLG member for 8+ years, Jennifer caught our eye because of her dedication to her community and preserving its history. Here's Jennifer's story...
A Love of the Library and Community
Living in a small town like Collinsville gave library director Jennifer Wilkins the opportunity to fall in love with her community and public library. Coming from a family of readers, Jennifer often found herself visiting the library as a young girl. That love continued into her adult life, when she spent some of her free time working as the library's volunteer treasurer.
After watching Jennifer grow and embrace her love for their community library, the retiring library director reached out to her and asked her to apply for the position upon her retirement. Uncertain she would be best for the role, Jennifer put off submitting her application. But, after some persistence by the previous librarian, Jennifer applied for the position and happily began her career as the Collinsville Public Library Director in 1999. "When I saw the positive legacy left by [the last librarian] and how much she loved the people and the library, it felt natural to move into the role. I already loved this community and library so much!"
Expanding and Enriching the Library
When Jennifer grew up perusing the shelves of the Collinsville library in her youth, she remembers walking into town to visit a small, local church that had graciously offered their Sunday school space to double as the community library. At some point over the years, the library received its own building and moved into a small, converted gas station. It was here, in the 1,700 square foot converted gas station, that Jennifer first took up her post as director. But it wasn't long before she had her sights set on expanding the library and enriching the historicism of their community.
In 2009, Jennifer and her team were blessed to have all their hopes come true: the library was going to move to a new home. After a decade of grant writing, fundraising, hard work, and prayer, the library was able to purchase and renovate a condemned, historic building in the community's quaint downtown. "We're so happy that we could save an historic building and give it back to the community for them to enjoy. It's honestly amazing how different the building looks today; you almost can't recognize the building when you see old pictures of it," she said.
Originally built in the 1870s, the new 2-story library offers Jennifer and her team 6,000 square feet of space. Not only were they able to add more books to their library's collection, but the additional space granted them the opportunity to plan more programs, create more community spaces, and enrich the history of the Collinsville community. Jennifer animatedly talked of all they've been able to do with the new space, and all they have planned for the coming year that would have been impossible in their old space. But to Jennifer, the library is more than a space for collaboration and community engagement; it's an opportunity to teach the people of Collinsville more about their history.
Previously, their children's and YA departments were mixed – something Jennifer always hoped to change. When an unexpected, generous donation was given to the library, she knew it was time to give back to the children of Collinsville. Renovating the previous service desk area, Jennifer hired a local artist to create a beautiful and enchanting mural of different well-known landmarks – past and present – scattered throughout their community. "I really hope that as more children find their way back to the library, they'll find places they recognize in the mural, and learn about those that are no longer there." She was excited to tell me her favorite image in the mural: that of the old church that housed the library when she was a young girl.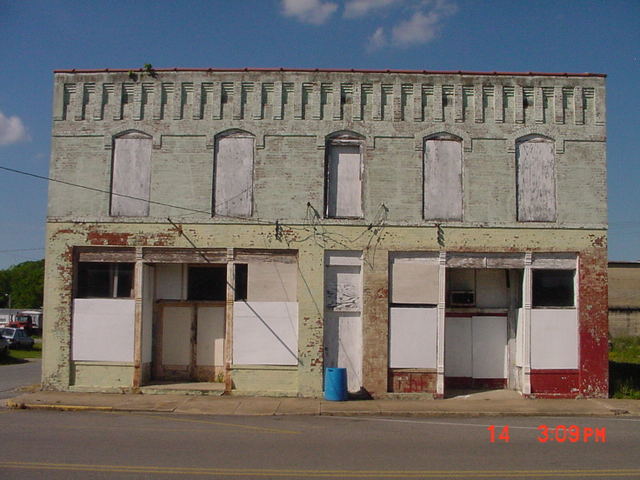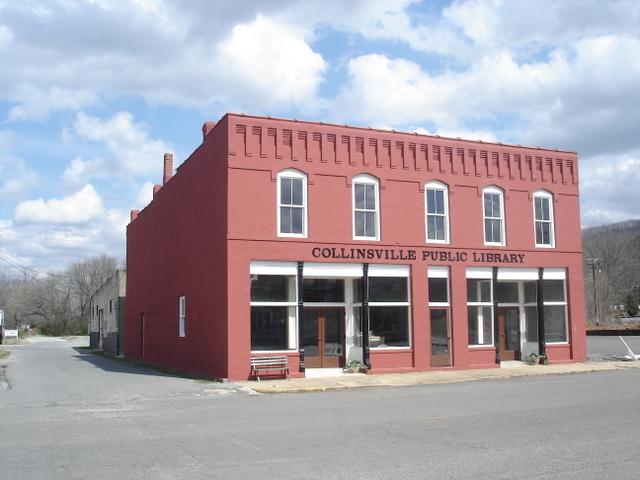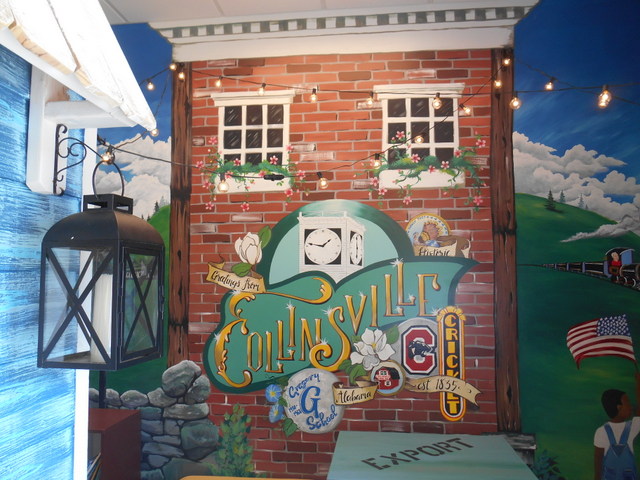 (Left to right): The Collinsville Public Library before renovations, the library after renovations, and a snippet of the children's department mural.
Jennifer, JLG, and Giving Back to the Community
With every word she spoke, it was apparent how much love Jennifer has for her community. When I asked why she was a JLG customer, the answer boiled down to two things: our customer service and how we can help her help her community more.
The local schools in Collinsville are 100% reduced/free lunch, meaning many of their families struggle to provide their children with things like a home library. While Jennifer loves that students can still take advantage of the community library, she is a major advocate for expanding reading materials in any way possible. When the library received a grant to create book bags for all 120+ of Collinsville's 2nd and 3rd graders, Jennifer jumped on the phone with her JLG rep to see how we could help them. In the end, we were able to help her select 1,200 titles for the students (even Spanish and bilingual titles for her ESL readers), totaling 8 books per child. Each child received a book bag packed with 8 hardcover books, a postcard, a beanie baby (to be their reading buddy for those who don't have one at home), bookmarks with information about the library's summer reading program, and a small letter explaining what the program was. WOW!
Jennifer has put her heart and soul into expanding the Collinsville Public Library and engaging with her growing community. As one of the few library directors in the state without a library degree or certification, she has proven that dedication, compassion, and just a little faith is more than enough for her success. We are so excited for everything Jennifer has done for her library and community, and we cannot wait to see what wonderful things she'll accomplish next!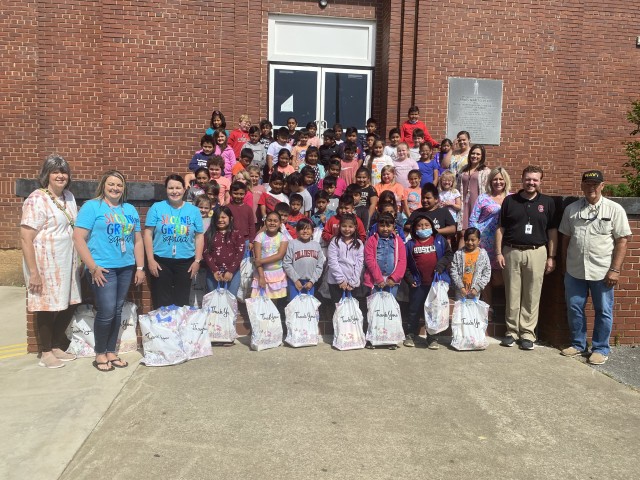 Jennifer, library staff, community members, and some of the students that received book bags!