With the start of a new school year, it's the perfect time to add new titles to your collection! We've chosen two special titles that are all about kids and their adventures at school! Pick up Buddy and Earl Go to School by Maureen Fergus and All's Faire in Middle School by Victoria Jamieson for

$9.50 each

when you shop by August 31!

Buddy and Earl Go to School - $9.50

by Maureen Fergus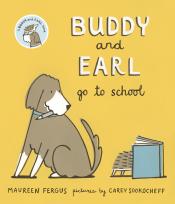 Buddy and Earl know that with the right education they can become anything — even a dentist or a hot-dog vendor! So they eagerly gather their silly, smelly supplies and head to school. Soon after they arrive, their teacher, Miss Meredith, is called away and Professor Earl takes charge of the classroom. Buddy works hard at lessons like Sniffing Things, Tail Chasing and Scratching Itches.

Grades 1-3
Praise:
"Readers will enjoy their time with these two: another satisfying friendship adventure." ― Kirkus, starred review

"The bond between Buddy and Earl is as strong as ever in their fourth book, as is the playful banter and cheerful artwork that capture their relationship so well." ― Publishers Weekly, starred review

Awards & Honors:
Shelf Awareness 2017 Best Book of the Year, Picture Books

Author Bio:
Maureen Fergus has worked as a professional manager in the aerospace industry, the biopharmaceutical industry and the financial services industry. She began writing after the birth of her first child and says it felt like, "I was slipping my hands into a pair of gloves that had been waiting for me my whole life." is the author of five novels for young people: A Fool's Errand and The Gypsy King (the two prior books in the Gypsy King trilogy), Exploits of a Reluctant (But Extremely Goodlooking) Hero and Recipe for Disaster, of which the latter two were both shortlisted for the McNally Robinson Book for Young People Award, and Ortega, which won the McNally Robinson Book for Young People Award. She is also the author of the recently published picture book, The Day My Mom Came to Kindergarten.

Download the activity sheet
_____________________________________________________________________________

All's Faire in Middle School - $9.50
by Victoria Jamieson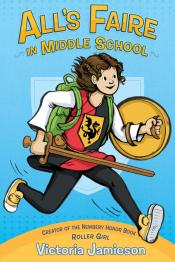 Eleven-year-old Imogene (Impy) has grown up with two parents who work at the Renaissance Faire, and she's eager to begin her own training as a squire. First, though, she'll need to prove her bravery. Impy falls in with a group of girls who seem really nice (until they don't) and starts to be embarrassed of her thrift shop apparel, her family's unusual lifestyle, and their small, messy apartment. Impy has always thought of herself as a heroic knight, but when she does something really mean in order to fit in, she begins to wonder whether she might be more of a dragon after all. Full-color illustrations.

Grades 5-8

Praise:
"As heartfelt as it is gorgeous, this is a worthy addition to any middle grade graphic novel collection."—Matisse Mozer, County of Los Angeles Public Library, School Library Journal

"Imogene is reflected with depth as she manages her anxiety and grows to better understand her family's precarious finances as well as microaggressions endured by her Latino father at the Faire and at his retail job. Roller-coaster moments stem from relatable, everyday adolescent experiences, always with a sense of high stakes." —Horn Book


Awards & Honors:
ALSC Notable Children's Books 2018, Middle
Capitol Choices 2018, Ten to Fourteen
YALSA 2018 Best Graphic Novels for Teens
Publishers Weekly's Best Book of 2017, Middle Grade
VOYA's Top Shelf Fiction for Middle School Readers, 2017
New York Times Notable Children's Books of 2017, Middle Grades
Brightly Best Children's Booksof 2017, According to Kids
Los Angeles Public Library Best of 2017: Children's Books

Author Bio:
Victoria Jamieson became interested in Disney when her family moved to Florida and began taking trips to Disney World. That led to an interest in animation and illustration, and ultimately a career as a book designer with HarperCollins Children's Books in New York. She has also worked as a portrait artist aboard a cruise ship, and has lived in Australia, Italy, and Canada. She now lives with her family in Pennsylvania.