New Category Alert!
Experience Interactive Nonfiction Categories for Elementary Readers
Help your readers immerse themselves in learning with JLG's 4 brand-new categories featuring media-enhanced titles! The All About Animals, Sports Essentials and About Our World categories help nonfiction topics come to life with animated illustrations, live videos, slideshows, and quizzes. And, our new World Languages category allows your readers to read and listen to books in 11 different languages! From Spanish to Mandarin, your readers will hear stories in their own language and learn new ones, all while studying everything from space to geography!
Each category brings you one new print book every month that contains a multi-use code allowing an unlimited number of readers simultaneous online access to the media-enhanced/multi-language version of the book—driving comprehension, retention, and enjoyment!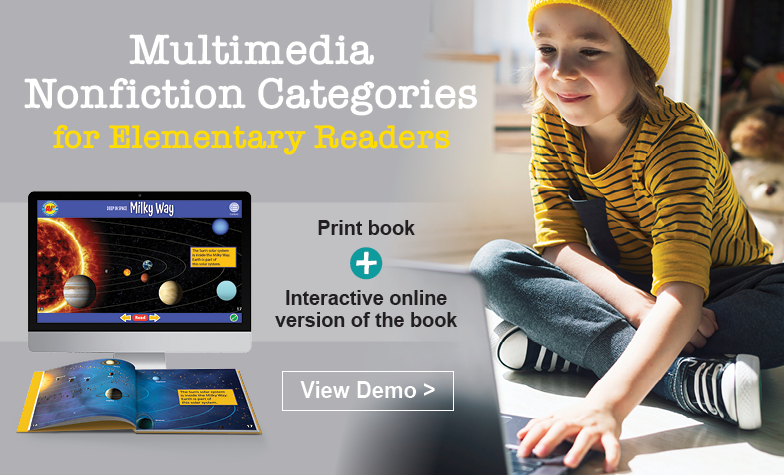 Explore all 4 Brand-New K–6 Categories
Plus, find out about the promotions available when you add one or more of these categories to a new or existing subscription!
All About Animals Elementary
Grades K–2
Watch animals come to life and delve deeper into their traits, behavior, and challenges. Readers will get up close and see animals in new ways with the 12 media-enhanced titles in this category that combine print and online interactivity with embedded multimedia features.
World Languages Elementary
Grades K–2
The 12 media-enhanced titles in this category come alive, combining a print and audio eBook in 11 different languages! Languages include English, Spanish, French, Arabic, Tagalog, Russian, Mandarin, German, Hindi, Korean, and Vietnamese. Full audio allows readers to listen to the text in their own language and toggle between languages for a bilingual experience.
About our World Elementary
Grades 3–5
Get virtual tours, meet new people and cultures, visit foreign lands, and see all the beauty the world has to offer. The 12 media-enhanced titles in this category allow readers to dive deeper and experience a whole new world through print, video and online features.
Sports Essentials Elementary
Grades 3–6
Experience the thrill of the game and learn more about the equipment, rules, championships, and players that make sports so exciting to play and watch. Readers get to join in on the excitement and fun with the 12 media-enhanced titles in this category, brought to life in print and through online interactivity.
View all JLG categories for grades K–12
Need help choosing the best categories for your library?
Contact your account rep or call us at 800.491.0174 for personalized guidance.