JLG's Librarian of the Month honor goes to Rippon Middle School and its dedicated team of Tamara Ingalls, librarian, Debra Gish, librarian, and Denisha Price, library assistant. A JLG member for 12 years, Rippon Middle School caught JLG's eye with fantastic posts on their Twitter account about the activities, excitement and innovation going on in their library. Here's their story...
Rippon Middle School is a specialty school for math and science in Virginia. A lower income school with many English-learning students, they have over 1,300 students grades 6-8. Their library staff includes Tamara Ingalls, librarian, Debra Gish, librarian, and Denisha Price, library assistant. They subscribe to 11 JLG categories each month, including Graphic Novels Middle Plus, Nonfiction Middle Plus, Upper Elementary & Junior High, and Advanced Readers Plus.
Debra and Tamara both transitioned from traditional classroom teachers prior to becoming teacher-librarians in a county cohort program. They both received a Master's of Education in School Librarianship through Longwood University.
| | |
| --- | --- |
| | |
| Tamara Ingalls, Rippon Middle School Librarian | Debra Gish, Rippon Middle School Librarian |
Innovation in the library
These talented librarians have taken valuable knowledge and experiences from their teaching days into their library and are constantly collaborating with teachers to plan different activities for students. Their innovative approach has endeared them to both the kids and the educators.
"We do things from teaching research skills—the stereotypical library things—to something called 'Breakout Boxes.' Those are self-contained escape rooms that we create clues for, and activities based around whatever the teacher wants us to cover. So that helps students review topics," Tamara shares. "We also do general things like problem solving or anything to enrich or extend what is being taught. We help teachers do just about anything that they might not be able to do on their own within their classroom and make things a bit different for the kids, even if it is just a different person talking with the kids."
| | |
| --- | --- |
| | |
| Breakout Boxes | Geography Bee |
They also offer fun activities like Lunch Bunch, which takes place monthly in the Rippon library. Activities are created around a theme and allow students to build community in their school. Plus, books related to the luncheon's theme are highlighted during the event to draw kids closer to the library content available to them.
Another innovative activity the Rippon librarians spearheaded was to turn students' prepping for Virginia's standardized testing (Standards of Learning) into a fun, interactive competition among different classes. But, rather than patting themselves on the back for their efforts, these librarians focused all their praise and social-media kudos on the students' achievements, big and small! Their passion for and pride in their students is so genuine, and we know that makes a big difference for Rippon's young learners.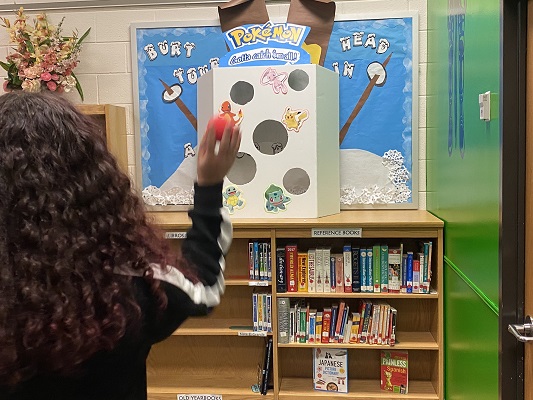 Books that move & move the readers
With so many extra teaching opportunities on their plate, the Rippon librarians say partnering with JLG has been a great help. "JLG is one way we are absolutely certain to get new books in our collection," says Debra. "We consider it our go-to for books every year."
"[JLG's] curated list does a really good job of picking things we maybe wouldn't have picked on our own or even known about, especially the nonfiction titles," says Tamara, adding that Rippon's nonfiction section contains books that date back to its opening in 1963—so the need for new titles is great.
Graphic novels, the librarians say, are the top pick for their students lately. "That is always their favorite," says Debra. Tamara adds, "The kids are always excited to hear when we get a new shipment!"
The students also like the middle grade books they receive from JLG—since the selections "aren't too babyish but aren't too mature," Debra says.
"One of the books that I was surprised about how well it did was the one about the Muslim fencer that competed and won in the Olympics, Proud: Living My American Dream by Ibtihaj Muhammad," says Tamara. "But, having said that, there are some titles and series that tend to circulate way more than others. We like that we can swap out the books if there is a title that might not move very well in our library." "That is like the best option ever!" adds Debra.
Another recent favorite of Tamara and her students was Killer Style: How Fashion Has Injured, Maimed, and Murdered Through History by Serah-Marie McMahon
"It was about clothing that would unintentionally kill you because it had mercury and things like that in it," she says. It's the "weird" nonfiction facts that Tamara finds appealing and that keep students interested, particularly when nonfiction can be intimidating.
"The nonfiction books are always high-interest nonfiction," says Tamara. "They are well written; they have excellent pictures or drawings or photographs. They are just more accessible."
"Kids surprise me how often they ask for nonfiction," says Debra "They ask for that probably almost as much as they ask for other books. I think they like not being so overwhelmed with how much information is coming at them... and, they don't have to decide if it is a reputable source or not."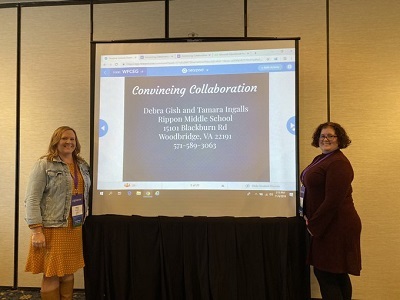 Loving their library lives
"We like to think that we have one of the best jobs because we still get to talk with the kids and work with them and teach lessons, which are all things we love," says Debra. "Plus, it's always nice to have a child come and ask for a certain type of book or describe something in very vague terms and be able to find a book for them. And then they come back later and tell us that they really liked that book!"
"They are always like, 'Hey, remember that book that was blue and had a diamond on it?'" laughs Tamara.
"Working with students is the best part of the job! It's so nice to live and work in a state that appreciates its librarians. Virginia requires that each secondary school have one full-time certified librarian per 1,000 students," says Debra.
---
Are you a good candidate for our next JLG Librarian of the Month—or do you know someone who deserves some recognition?
Share the deets with us on social using #JLGLibrarian and tag us @juniorlibraryguild! Any librarian or library worker is qualified for this honor, so show us what you're doing to advance literacy and the love of reading in your library! Recognized librarians receive a "Librarian of the Month" certificate, a tote bag of JLG goodies and a special offer for JLG categories and books!