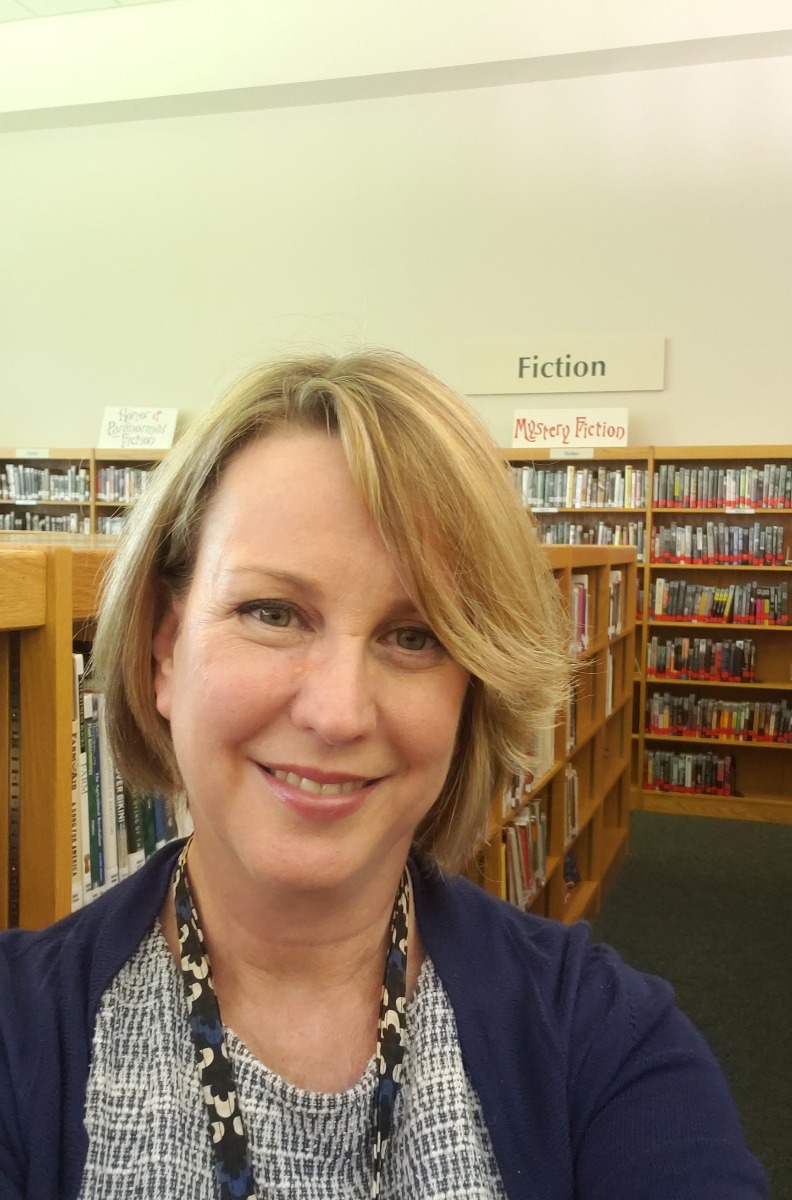 JLG's April 2021 Librarian of the Month honor goes to East Chapel Hill High School and their considerate and passionate librarian, Michelle Wright. A new JLG member, Michelle caught our eye because of her consideration for her students' needs and her overall experience and passion as a school librarian. Here's Michelle's story...
Discovering Librarianship
Like many people, Michelle's career began different than where it's landed. As a young girl, Michelle was an avid reader (and even won a contest in grade 4 for reading the most books!). Yet, as a young, fresh-out-of-high-school teen, she did not know what she wanted to do for the rest of her life, so she pursued what she was interested in at the time: cosmetology. After working as a hairdresser for four years, she then worked as a bartender until the age of 22, when she decided to start classes at a local community college in southern Florida.
Soon after, she transferred to Florida State University where she earned her four-year degree in History. At the time she graduated, she was at another crossroads in life trying to decide what to do next. "I was 26 with a history degree not knowing what I wanted to do with my life," she recalled.
Then, one evening she found herself in a serendipitous moment on a bench with another student. The student was holding two graduate school brochures: one for history and the other for library sciences. Intrigued by the two graduate school paths her peer was considering, Michelle asked to look at the brochure for the MLIS tract and it all fell into place. Michelle knew what she would do next: become a librarian.
From Academic to Global Librarian
With her interest in history and research, Michelle naturally found herself drawn to academic librarianship as the focus of her MLIS. So, once she completed her degree, Michelle worked in a public library and a community college, each for a single year, before deciding to make a life-changing move. In 1998, Michelle and her husband moved to Dubai where she lived and worked as a librarian for the next 17 years. Dubai became home for her and her budding family – her kids were even born and raised there!
When she first began working in the Dubai, Michelle worked with Emirati girls at the community college level before moving onto the American University in Dubai for a few years. But, once her children were born, she decided to switch gears and work in K-12 libraries so she could spend more time with her family. But after seven working in K-12 libraries in Dubai, Michelle found herself contemplating another move.
Returning to the States
Several years ago, Michelle returned to the States and landed in Texas, where she came to terms with being away from the states so long professionally. Soon after arriving back in the U.S., she realized that she needed additional school library certifications, so she began teaching world history while she hit the books and worked to update her certifications.
Although being a classroom teacher was never part of Michelle's career goal, it gave her invaluable insight into her role as a librarian and the time-constraints teachers faced every day. "Working in the classroom," she said, "helped me understand why teachers didn't always take advantage of library resources, whether it was online databases, books, or me teaching library and information skills. I had a better understanding of just how busy they are!" However, in the time she spent updating her certifications and teaching world history, Michelle realized she missed Dubai. Therefore, she moved back to Dubai for another three years before returning yet again to the states.
A New Home, New Library, and New JLG Membership
In mid-2019, Michelle decided to move one last time to a place she had always hoped to live: North Carolina. In Chapel Hill, she landed her dream job at East Chapel Hill High School.
When she first began working in Chapel Hill, her library inherited a JLG subscription which she immediately cancelled. "I love collection development and self-selection," Michelle added, "I didn't feel that I needed JLG's help to do either of those." Then, a few months later her JLG representative reached out with an offer too good to refuse, so she decided to give it a chance (if you're wondering what the offer was, ask your district's rep about our "threebies"). After learning more about our services and selection process, she decided JLG would be perfect to help develop parts of her collection she was least comfortable selecting for (like sports books) and to update and diversify her library's collection. "As an international librarian for 17 years, I've taught students from over 97 countries. I love diversity in a collection and love learning about new authors and new books, so I was excited to see what JLG could offer."
As a new librarian in Chapel Hill, Michelle made setting up her JLG subscription an opportunity to get to know her students and their reading interests better. "Student choice and student voice is so important," she said. "So, I sent out a poll for students to decide what three categories we would try." The poll listed 19 different JLG high school categories for them to select from, and the responses gave her invaluable insight into her students' interests. The way she described watching the poll felt like a race to the finish line, and it was a close race! Mystery/Adventure and Fantasy/Science Fiction were the top 2 contenders – respectively – the whole time. But at the last moment, Current Trends beat Young Adult for their third pick! "Being new to the area, the poll really allowed me to know the students' interests instead of me just guessing what they would want," Michelle said.
Michelle began working at East Chapel Hill High School right as COVID restrictions began, so she's excited about discovering her new city and her new students. The school is coming up on its 25th anniversary, and with that milestone date approaching, she and her principal are working on a plan to update the library with new, flexible furniture and shelving and even painting the walls school colors. And, of course, updating her collection with new release titles her kids crave – like the ones she'll get each month from JLG. We cannot wait to see what amazing things she accomplishes for her students!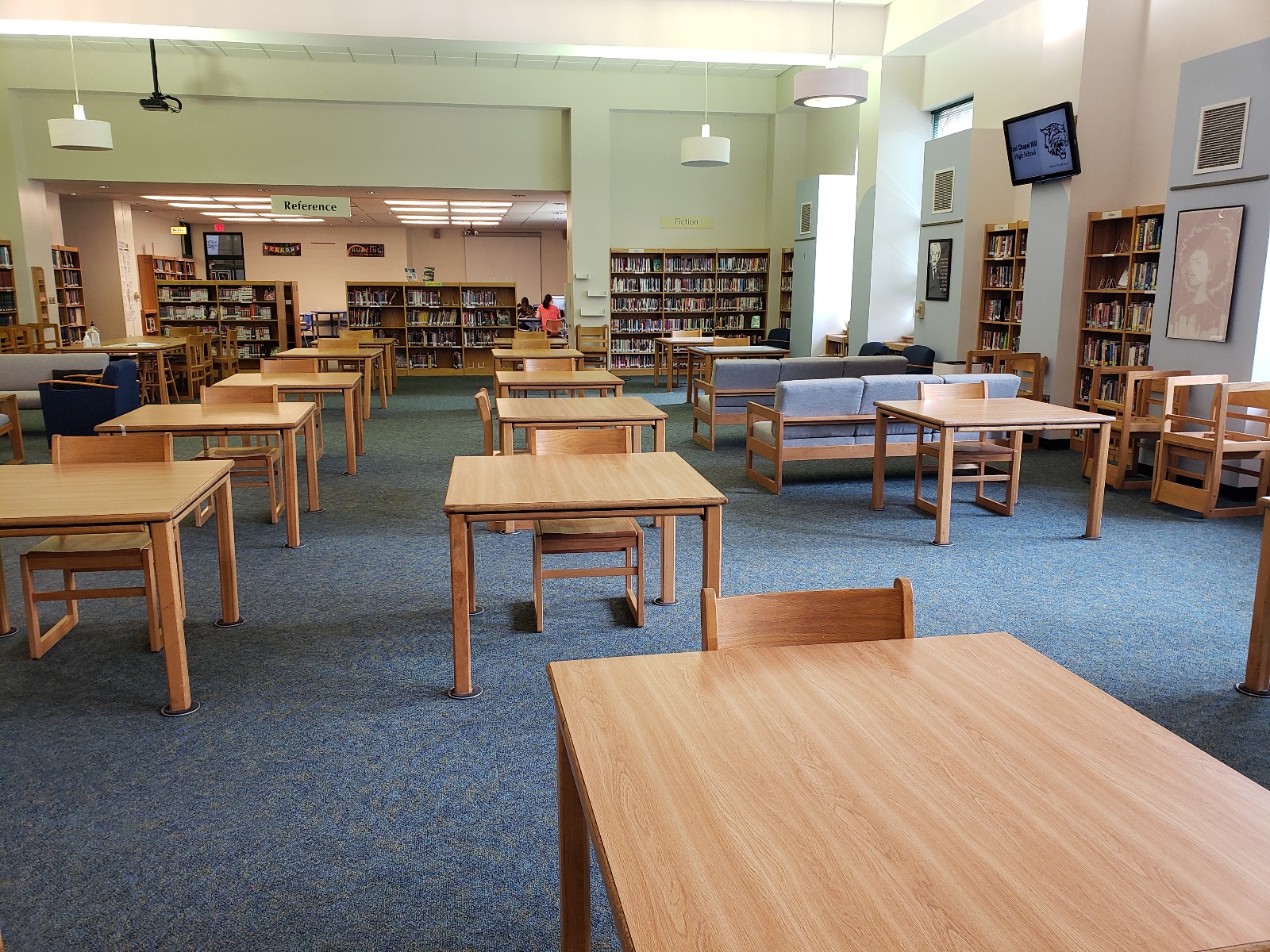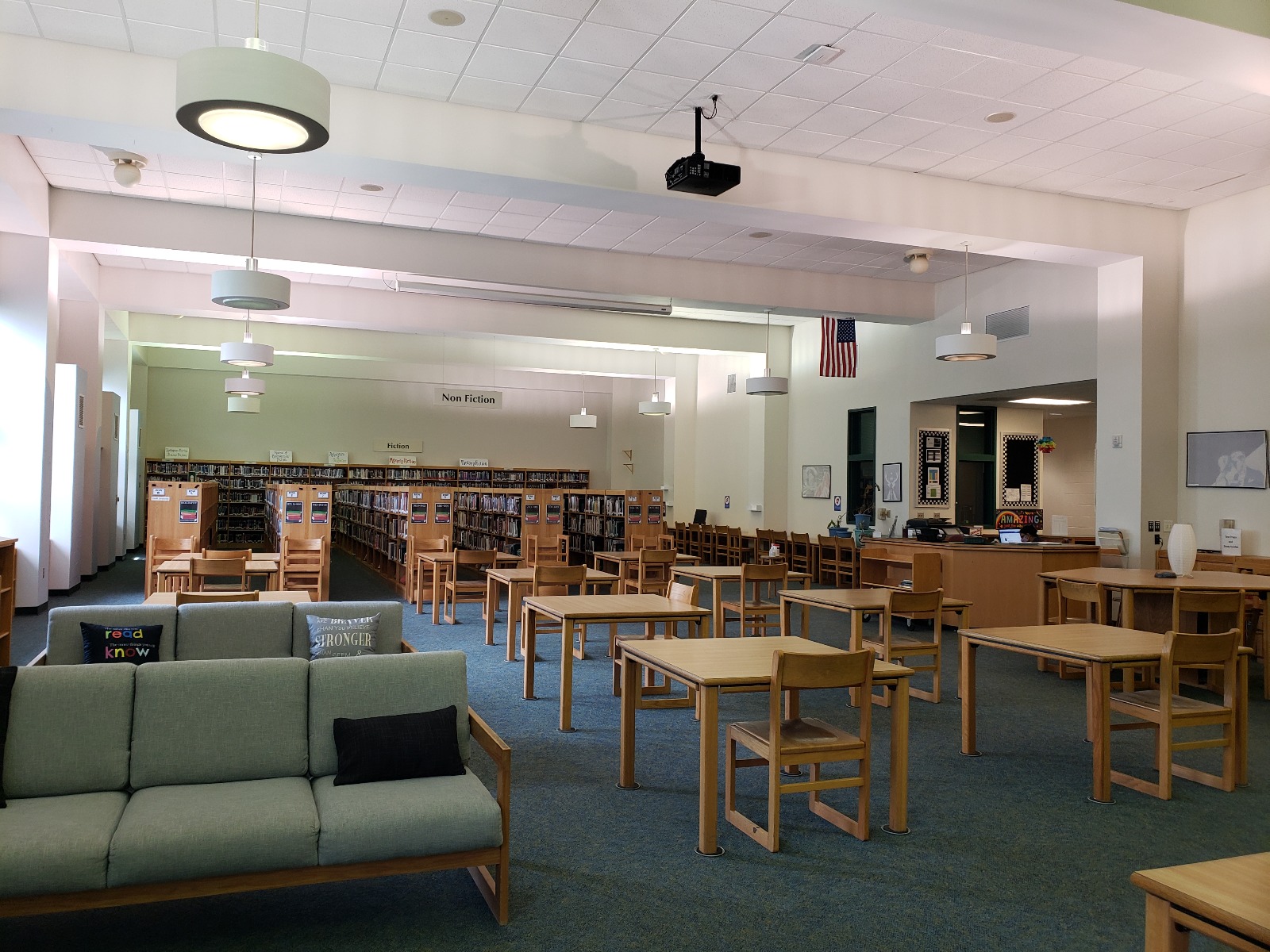 Photos of the East Chapel Hill High School Library as it looks today (April 2021)