The Blog @ Junior Library Guild
Inspiration for Readers and Library Leaders.
Sign Up to get the latest news and updates.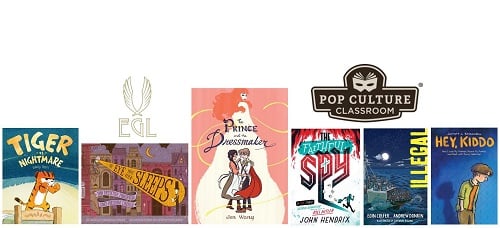 JLG Titles Dominate Excellence in Graphic Literature Awards
By:
Sarah Cooke
|
June 17, 2019

|
The 2019 Excellence in Graphic Literature (EGL) Award winners were recently announced at the Denver Pop Culture Con, and the competition was stiff.JLG's Graphic Novel categories are among our most popular—and we are thrilled to see so many JLG selections honored in this year's EGL Awards!
Read More
New Year, New Chapter
By:
Sarah Cooke
|
January 15, 2019

|
For many of us, the new year is a time for new beginnings. A chance to hit reset and open our minds to new opportunities and possibilities. With that in mind, we wanted to put the spotlight on three popular, previously selected titles that follow the adventures of protagonists who are stepping into a new world or undergoing major changes in their lives and starting a new chapter.
Read More