The Blog @ Junior Library Guild
Inspiration for Readers and Library Leaders.
Sign Up to get the latest news and updates.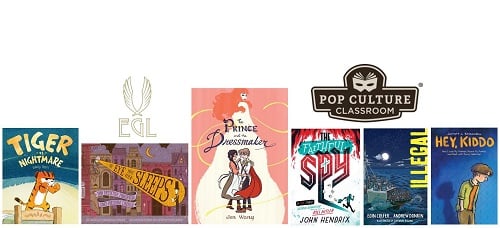 JLG Titles Dominate Excellence in Graphic Literature Awards
By:
Sarah Cooke
|
June 17, 2019

|
The 2019 Excellence in Graphic Literature (EGL) Award winners were recently announced at the Denver Pop Culture Con, and the competition was stiff.JLG's Graphic Novel categories are among our most popular—and we are thrilled to see so many JLG selections honored in this year's EGL Awards!
Read More
Celebrating Our Winners: 2019 ALA Youth Media Awards
By: |
February 05, 2019

|
We're absolutely thrilled that fifty-two of this year's American Library Association Youth Media Awards and honors went to JLG selections. We're so proud of our amazing authors and illustrators, as well as our talented editorial team and their history of picking winners. We wanted to take this opportunity to highlight the winners of this year's Newbery and Caldecott Medals, and the recipient of the Coretta Scott King Author Award. You can add all of this year's winners to your collection here.
Read More