There's nothing quite as exciting as ripping into a long-awaited package. And when that package is a new shipment of books for your library, unwrapping it is especially exciting.
Or, at least, that's the case for Mrs. Murphy and Ms. McDonald from Manchester Elementary School in Washington state. The giggly, giddy stars of last month's Boxes of Books Unboxing video are at it again, this time unpacking their JLG subscription box of March selections.
Filled with everything from picture books and poetry to biographies and humor, the teachers unveil a box with a little something for every reading taste at Manchester. They even find themselves the butt of a book prank, courtesy of The Stinky Truth and its "scratch and sniff" cover.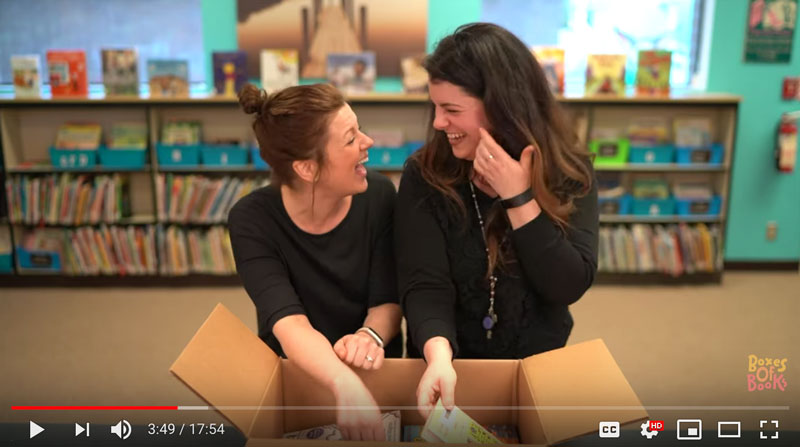 Among the selections in their March subscription are a handful of Nonfiction titles that cleverly pair art and science, giving the educators the opportunity to introduce STEM topics in a new and accessible way. These include:
"A bright young lady is the main character," Mrs. Murphy says of Just Right. "Girls… science… science… girls. They go together. It's true!"
The infinitely creative Snowman - Cold = Puddle really caught the teachers' eyes, offering a unique way to introduce math, science, weather and poetry all rolled into one. This title was a featured book in JLG's recent "The Nonfiction Revolution" webcast. We can't wait to hear how the book is received at Manchester!
Are you following the Boxes of Books YouTube channel? Subscribe and be among the first to know when the next unboxing video releases.
---
To see the JLG selections that were discussed in this video click the titles below.
Audiobook: The Miscalculations of Lightning Girl by Stacy McAnulty
Audiobook: Wedgie & Gizmo vs. the Toof by Suzanne Selfors
Too Young to Escape: A Vietnamese Girl Waits to be Reunited with Her Family by Van Ho and Marsha Forchuk Skrypuch
The Stinky Truth: Lyttle Lies #2 by Joe Berger
Mangoes, Mischief, and Tales of Friendship: Stories From India by Chitra Soundar
Poof! A Bot!: The Adventures of Zip by David Milgrim
Pizza Party: The Carver Chronicles by Karen English
How to Give Your Cat a Bath: In Five Easy Steps by Nicola Winstanley
The Extremely High Tide!: Secrets of Topsea by Kir Fox
Wundersmith: The Calling of Morrigan Crow by Jessica Townsend
Click, Clack, Peep! By Doreen Cronin & illustrator Betsy Lewin
William Wakes Up by Linda Ashman
The Big Game by Tim Green
Knights vs. Dinosaurs by Matt Phelan
Struttin' with Some Barbecue: Lil Hardien Armstrong Becomes the First Lady of Jazz by Patricia Hruby Powell
The Hen Who Sailed Around the World: A True Story by Guirec Soudée
Snowman - Cold = Puddle: Spring Equations by Laura Purdie Salas
Inkling by Kenneth Oppel
Ode to an Onion: Pablo Neruda and His Muse by Alexandria Giardino
Crave-Worthy Candy Confections with a Side of Science by M. M. Eboch
What is Given from the Heart by Patricia C. McKissack
Just Right: Searching for the Goldilocks Planet by Curtis Manley
The Bell Rang by James E. Ransome
Super Potato's Galactic Breakout by Artur Laperla
The Impossible Crime: Mac B, Kid Spy by Mac Barnett
If you're not a JLG member, you're missing out. You could be tearing open your own box of excitement every month. With 80+ categories to choose from, you'll find the right books for your readers and your budget. Contact a Collection Development Expert to learn more or call 800-491-0174 to get started today.